More than a year ago, Princess Michael of Kent made a major faux pas by wearing something that many believe she should not have worn during the 2017 Christmas luncheon, a fashion accessory that someone who is biracial like Meghan Markle might find offensive. While she apologized for the offense, there are those who believe that she might actually disapprove of Meghan and maybe even Kate Middleton.
Princess Michael of Kent wore a blackamoor brooch, which is a "piece of jewelry depicting a black man in a golden robe and turban." Her choice of jewelry was questioned since it has connotations to people of color in servitude.
The princess' choice of accessory quickly received international backlash as there were suspicions that she might have intentionally worn it knowing that she'll be meeting Meghan. She issued an apology via a spokesperson who said that it was not intentional. "Princess Michael is very sorry and distressed that it has caused offence," the spokesman explained
She maintained that she has worn the brooch before without receiving negative reactions in the past. Nevertheless, she also promised that she'll be retiring the jewelry for good henceforth.
However, that was not Princess Michael's first racially tinged faux pas. Back in 2004, she reportedly told a group of black diners in a New York restaurant to "go back to the colonies." The group was actually composed of a Wall Street banker, a television reporter and a PR consultant.
There might also be another reason why Princess Michael might not get along with Meghan and even Kate. "I've been thinking a lot about Princess Michael lately in the context of William's and Harry's conjugal choices," wrote Aatish Taseer on Vanity Fair. "She was of the firm belief that it was a bad idea for royalty to marry commoners."
Mr. Taseer personally knows and interacted with Princess Michael since he once dated her daughter, Lady Gabriella Windsor. "It's all very well Ella marrying Mr. Taseer from India, or Pakistan," the princess once told Taseer. "No one knows what to do with that. But the moment the girl down the road thinks she can be Princess or Queen, it's all over. The mystery is gone."
One of Princess Michael's quotes, which can be surprisingly found on the royal family's site, speaks volumes on what she thinks about marriage outside the aristocracy. "The English take the breeding of their horses and dogs more seriously than they do their children," she said. "God forbid that the wrong drop of blood should get into their labrador. But their children marry everywhere."
Indeed, Princess Michael has always been known for taking pride in her aristocratic lineage, which, according to her, goes all the way back to Saint King Louis and even Charlemagne. "She sounds a bit too grand for us," even Her Majesty reportedly commented.
Mr. Taseer tried to explain where Princess Michael's line of thinking might have come from — it's probably because she thinks royals must sacrifice love. "Kate Middleton, the daughter of an air hostess, is future Queen, and now there is Meghan Markle — a divorcée and an actress of mixed race, both unthinkable for a family that routinely demanded the sacrifice of big love at the altar of respectability," the journalist wrote.
"Princess Margaret was made to break things off with Group Captain Peter Townsend, a divorcé; and when Edward VIII refused to give up American socialite Wallis Simpson — also a divorcée — he had to give up the throne," were the few examples Taseer came up with.
But does Princess Michael of Kent really disapprove of Meghan or Kate for being commoners as some outlets suggest? Since no one could really tell with certainty what her opinion is on the matter, it's probably best to give her the benefit of the doubt. To her credit, she has not made any negative comments on either duchesses since the brooch incident.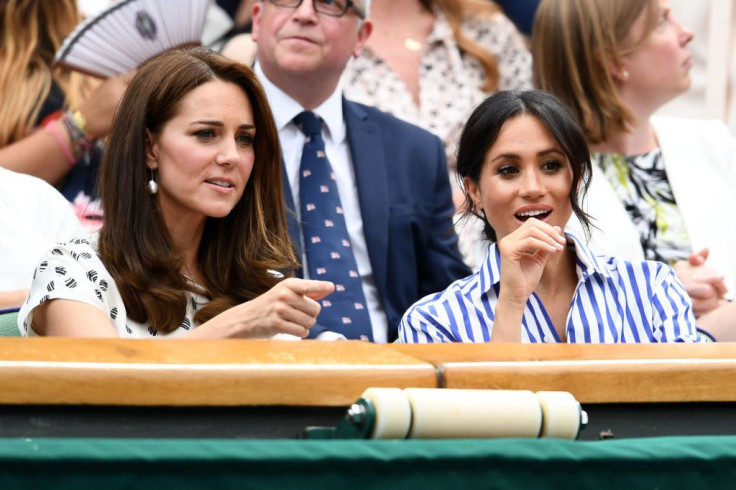 © 2023 Latin Times. All rights reserved. Do not reproduce without permission.