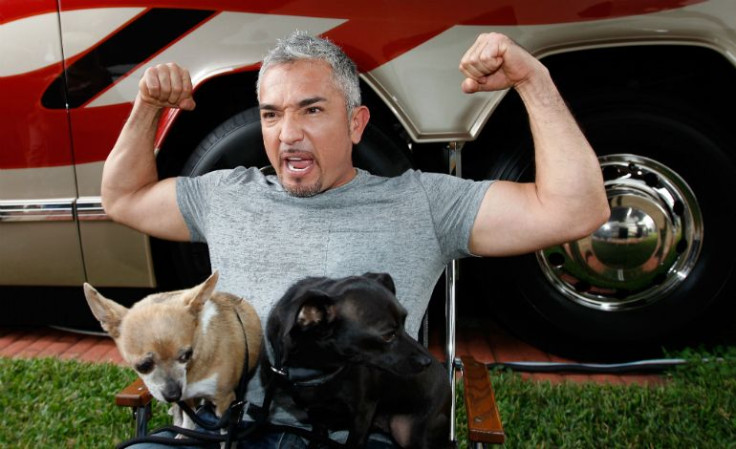 Cesar Millan, the famous "Dog Whisperer," is under investigation over allegations of animal cruelty over an incident filmed on his show. The footage showed a dog called Simon attacking a pig during a training exercise, "There was a complaint that we received and we are investigating the matter," Deputy Director Danny Ubario, of Los Angeles County Animal Control, told TheWrap on Thursday. "An officer visited the center today and it's currently under investigation."
The segment has caused furor on viewers and over 8 thousand people signed a petition demanding for his show to be cancelled. In a statement released to KNBC, a representative from Nat Geo WILD explained the exercise on the episode and said that the dog trainer has dedicated his life to helping dogs by showing his audience how even the most difficult 'problem dog' can be rescued and rehabilitated. The channel added:
"The short clip from the episode was shared online and "showed Simon chasing a pig and nipping its ear, causing the ear to bleed. The clip caused some concern for viewers who did not see or understand the full context of the encounter. We have included an additional clip from the same episode [click here to download] to provide missing context. Cesar has created a safe and controlled environment at his Dog Psychology Center (DPC) in California in which to rehabilitate some of the most extreme — or "red zone" — cases of dog aggression, such as Simon's.
It is important to clarify that Cesar took precautions, such as putting Simon on a long lead to assess his behavior, before making initial corrections and removing the leash. The pig that was nipped by Simon was tended to immediately afterward, healed quickly and showed no lasting signs of distress. As the additional clip reveals, Cesar and his animal pack effectively helped Simon to overcome his aggressive behavior toward other animals; as a result, Simon did not have to be separated from his owner or euthanized."
© 2023 Latin Times. All rights reserved. Do not reproduce without permission.