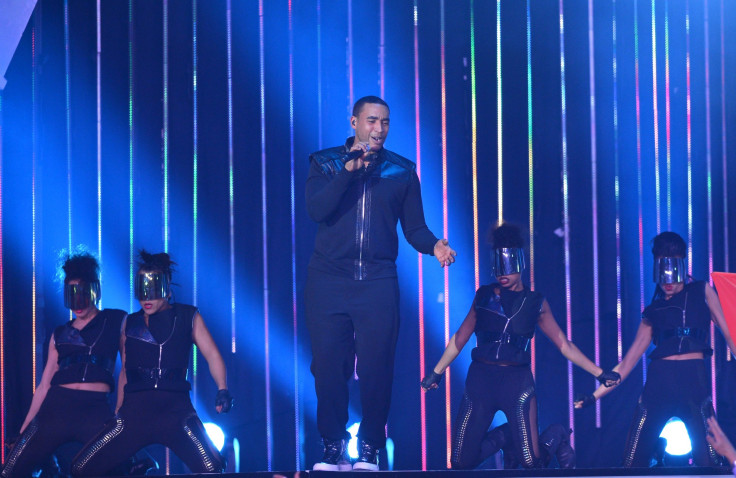 It's been a crazy week for Don Omar and his ex-girlfriend Rebeca López. On Wednesday, September 17, the reggaeton artist was arrested following claims of domestic violence by López, who had been in a relationship with him for about a year. He was charged with domestic violence, maltreatment, threatening, illegal possession of a firearm and aiming the weapon at his ex-girlfriend. Don Omar was later released from custody on a $600,000 bail and with an electronic ankle monitor to keep track of his whereabouts.
Eventually, Don Omar was able to get a special permission to travel to NYC to perform at Madison Square Garden, where he had been previously scheduled to be a part of the Megatón event on Sunday, September 21. Following his performance, in which fans cheered the artist, López released a statement on her Facebook on Monday morning saying she forgave Don Omar and that she couldn't deal with all the "pressure" and attention she was getting after the incident. She added that she loved Don Omar and she believes love conquers all, but at this time their relationship is over.
"We've shared happy moments and not-so-happy moments as well. We've grown and learned throughout this process and today I know there's no more strength in me to continue with this torment that we're currently going through," López wrote. "Right now, when I know my emotional health is at stake, I would like to be responsible with myself and take some time off to recuperate and find myself away from everything and everyone." López asked her family to support her and understand her, and she assured them she's going to be fine.
She continued her letter adding, "I'm feeling very pressured and I can't handle what this has become. At least I can't allow myself to hurt someone I love. Let alone intervene in his career, which he has built and worked hard for. We all make mistakes and my heart wouldn't allow it. I only have forgiveness. That's how I am and who really knows me, knows that it's true. I can't be a part of this process anymore. Today the uncertainty is killing me, and it hurts me to know that I can deprive this man from his freedom. It's making me sick and that's not healthy for anyone, let alone my family."
"My love, I wish this all ends soon enough for you. Someday, somewhere very far like you've always said, you'll find the perfect moment with me. Meanwhile we just have to wait." López finished her post apologizing with friends and family, and citing Bible verses about forgiveness. After she posted her side of the story, she disappeared, to the point where the family contacted the police to file a missing person's report in the early hours of Tuesday. Her vehicle was found in a parking lot, which had her family in high alert, but López eventually communicated with them to let them know she had landed in Washington DC.
Meanwhile, Don Omar posted the following message on his Twitter account: "My heart doesn't hold grudges. Forgiveness is the basic element for love. We will see each other and a hug will finally seal this unfortunate event."
You can read Rebeca López's full letter HERE.
© 2023 Latin Times. All rights reserved. Do not reproduce without permission.