Ahead of Ivana Trump's funeral service, her ex-husband Donald Trump and his wife Melania were clicked while returning to New York City.
Trump and Melania arrived at their old Manhattan residence in Trump Tower on Monday, reported Daily Mail. They returned just four days after 73-year-old Ivana, a socialite and first wife of Trump, was found dead in her Upper East Side apartment. In new photos, Trump, dressed in a black suit, was seen exiting his black SUV. He was ushered into the luxury building by his security detail. His 52-year-old wife, Melania, was snapped trailing behind. She emerged in a white collared shirt, black slacks, and dark shades, and appeared to be sporting a fresh blowout for the trip.
After leaving the White House early last year, Trump and Melania relocated to Palm Beach, Florida. They are expected to attend Ivana's funeral and memorial service this week. Following a service at a Roman Catholic church, the Czech immigrant businesswoman will be laid to rest on Wednesday. Sources said that a "Celebration of Life" will take place at the St. Vincent Ferrer Catholic Church, which is considered to be a historic church on Lexington Avenue.
Trump and Ivana exchanged wedding vows in 1977 and parted ways in 1992 after his affair with Marla Maples got exposed. The divorce was a bitter one, but the exes, who have children -- Donald Jr, Eric and Ivanka together, were eventually able to get on friendly terms, The List reported. Last Thursday afternoon, news of her death was first shared by Trump, via a post on his Truth Social account where he said that he was "very saddened to inform all of those that loved her, of which there are many, that Ivana Trump has passed away at her home in New York City."
Earlier there were reports that Melania would not be attending Ivana's funeral. But Melania's joint trip with her husband to New York suggests that there may have not been any bad blood between the two women. During the promotion of her memoir, "Raising Trump," in 2017, Ivana said, "I'm basically first Trump wife, okay? I'm first lady, okay?"
Melania's spokesperson hit back with a pointed statement, saying that the former First Lady had made the White House a home for Barron and the President, and that she "loves living in Washington, DC and is honored" by her role as First Lady of the U.S. The spokesperson shared that Melania planned to use "her title and role to help children, not sell books." The statement further read that there was "no substance to this statement from an ex. Unfortunately only attention-seeking and self-serving noise," according to She Knows.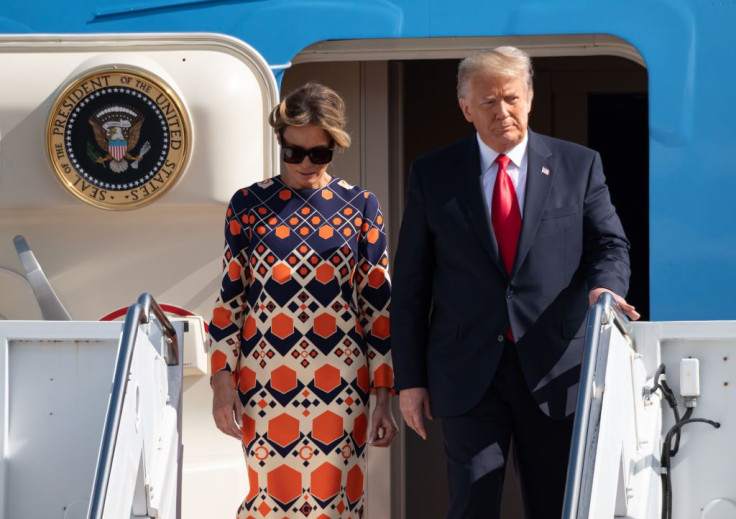 © 2023 Latin Times. All rights reserved. Do not reproduce without permission.