Former US President Donald Trump and his wife Melania attended New Year's Eve bash at Mar-a Lago where they were joined in by their maskless family members and guests.
The couple returned to the party at their Florida retreat after skipping last year's lavish gala following Trump's election defeat, reported Daily Mail. For this year's black-tie gathering, Trump dressed up in a tuxedo, with Melania in a cream-colored dress with bell sleeves that featured sequined embroidery.
According to Footwear News, Melania, who is known for her love of fashion, looked stunning in silver point-toe pumps that she chose for the occasion.
The gala was also attended by Trump favorites like his son Eric, who was with wife Lara and their kids, Rudy Giuliani, who is former New York City Mayor and attorney for Trump, and Congressman Matt Gaetz with his wife Ginger Luckey.
The former President was going to attend the gala last year too, but changed his mind and headed to Washington D.C. with his wife on Dec. 31. He skipped the bash where attendees had paid up to $1,000 for one ticket. After his return to the White House, Trump didn't focus on celebrations, but on the certification of Joe Biden's election win in Congress, which happened on Jan 6, 2021.
But a year later, things changed and the beaming couple have been attending parties at Mar-a-Lago. Before the New Year's Eve bash, Trump and Melania had Christmas Eve dinner at the club, where they ate with Ivanka Trump and her husband Jared Kushner.
It seems like celebrations will continue for the family as Trump's son, Donald Trump Jr., and Kimberly Guilfoyle are reportedly getting married. Having been engaged for nearly a year, a source told Page Six Monday that Trump Jr. and Guilfoyle are headed to the altar.
The former Fox News contributor was spotted wearing a huge diamond ring in a photograph that she posted on Instagram Saturday, sparking engagement rumors. She captioned the photograph of herself and Trump Jr. posing in front of a Christmas tree, "Tonight was extra special celebrating @donaldjtrumpjr's birthday."
She described him as a "strong, smart, courageous and funny" man, and called him the "love of my life." She even wrote that she couldn't wait to "spend the rest of our lives together. Love you."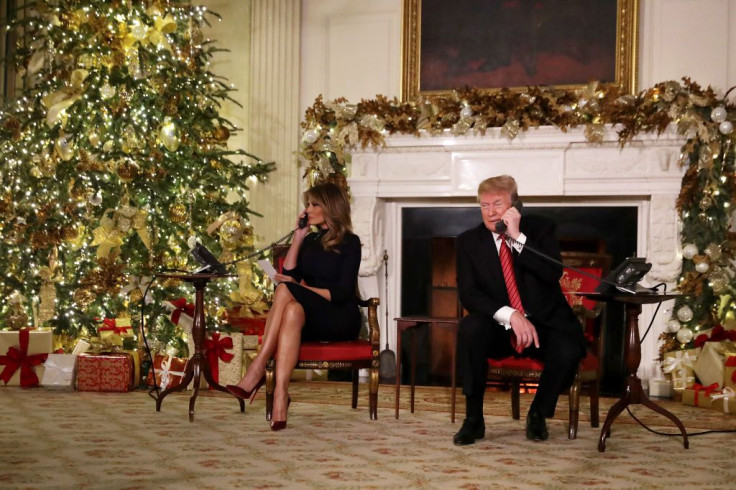 © 2023 Latin Times. All rights reserved. Do not reproduce without permission.