Former US President Donald and First Lady Melania Trump might attend the lavish New Year's Eve party at Mar-a-Lago, Florida after taking last year off in the wake of his Presidential election defeat.
Sources told Daily Mail that Trump is expected to attend this year's gala, but he could change his mind as he did last year. Last year, the couple was in Washington D.C. on Dec. 31, 2020, and skipped the black-tie gathering, where guests had paid up to $1,000 for one ticket. The former first couple returned to the White House where Trump spent his time focusing on the upcoming certification of Joe Biden's election win in Congress, which took place on Jan 6.
This week, the pair could be back on the red carpet where Trump had earlier enjoyed playing the event's host. Meanwhile, Trump and Melania are spending the chilly months at his Palm Beach club where they can enjoy the Atlantic Ocean views.
The New Year's Eve party news comes after the Trumps had Christmas Eve dinner at Mar-a-Lago, where they shared a meal with Ivanka Trump and her husband Jared Kushner. The four sat at a table in the main ballroom of the private club. Trump and Melania got a standing ovation when they walked through the ballroom to the table where Ivanka and Kushner were waiting for them, according to a video and photos posted on social media. As Trump made his way to his spot, he waved to the crowd.
Both Ivanka and Melania dressed up in white outfits for the occasion. In fact, Melania slipped into the same Elie Saab dress worth $7,450 that she wore to a North Atlantic Treaty Organization (NATO) meeting in Belgium in 2018.
Apart from attending the Christmas gala, Trump and Melania brought joy to a seven-year-old girl, who was severely injured after her home in Missouri got struck by a tornado, Latin Times had reported earlier this week. The package sent by the couple to Avalinn Rackley consisted of things like Presidential blankets, bracelets, pens, American Girl Dolls, hats and books signed by the former President. There was also a letter sent by the Trumps that was addressed to the girl, whose elder sister Annistyn, 9, died after a tornado struck her and their family house in Caruthersville, Missouri earlier this month.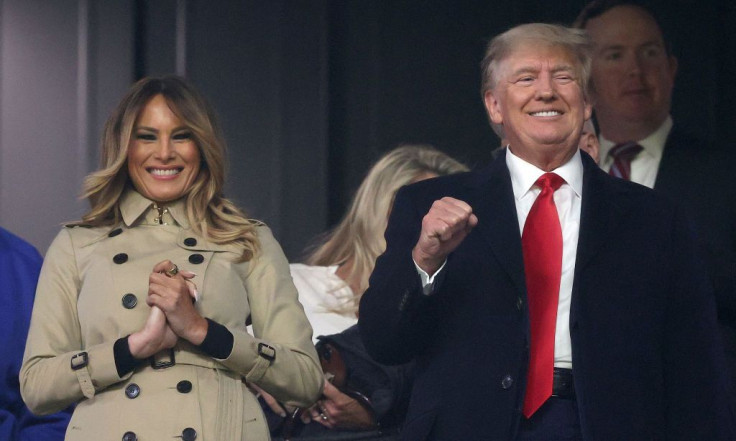 © 2023 Latin Times. All rights reserved. Do not reproduce without permission.