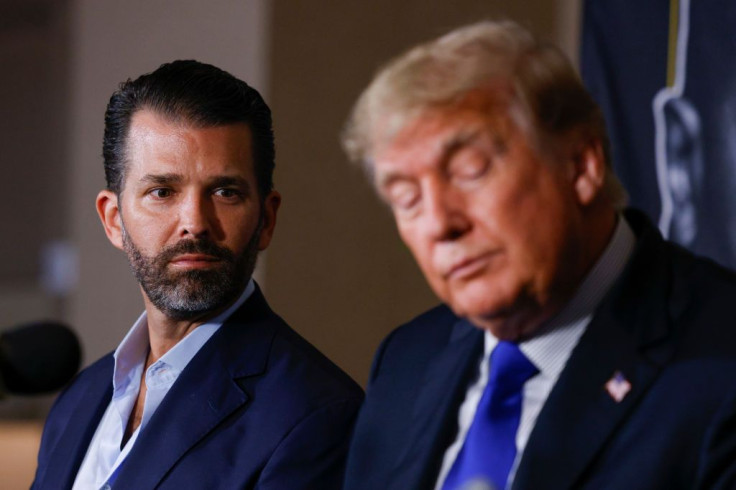 Former President Donald Trump's son Donald Trump Jr. recalled the time when he was done with college and was financially cut off by his family.
Trump Jr. told was speaking to Representative Marjorie Taylor Greene about Representative Alexandria Ocasio-Cortez when he opened up about living off gas station sushi for a year after graduating college.
Ocasio-Cortez had previously worked as a bartender. Trump Jr. And Greene discussed how they think that does not qualify her to make high-level financial decisions.
He told Greene that he had also worked as a bartender when he moved to Colorado. He took up the job right after graduating from the Wharton School of Finance to "get some stuff out of my system." He said that it was a "brutal" conversation telling his father, a businessman-turned-politician, that he didn't want to start working immediately.
He joked that it "went over very well," and that he "was cut off, the only thing that they didn't cut off because they forgot was my gas card." So, Trump Jr. had a "car and a gas card." He described himself as the "guy that lived off gas station sushi for like a year."
He shared that his experience as a bartender didn't qualify him to make "trillion-dollar decisions." It also didn't help him to be seen as a "great financial thought leader as they do with AOC."
Trump Jr., who is the former President's eldest son, had previously said that he took a year off from studies and work after graduation. At the time, he lived in the back of a truck in Aspen, Colorado. There he hunted, fished, and also worked as a bartender at times, reported Business Insider.
Later, he returned to New York City to work for his father's company -- the Trump Organization, and has since become one of his father's most active political tools. During Trump's presidential campaigns, he traveled the country to speak on his dad's behalf.
Earlier this month, Trump Jr. joined the social media buzz over the Chinese spy balloon that was recently shot down in U.S. airspace. He shared a joke about the incident that showed his father's infamous portrayal as a giant, angry and diaper-wearing baby holding a smartphone in its hand.
He tweeted saying that he's not gonna lie, but "this is funny."
According to Yahoo!, the 20-foot "Trump Baby" blimp is now kept in the Museum of London. It was created for Trump's 2018 visit to London, when thousands of people protested his visit to the city. The balloon made many more appearances during his presidency like at anti-Trump protests in Argentina.
© 2023 Latin Times. All rights reserved. Do not reproduce without permission.