Top infectious-disease U.S. expert Anthony S. Fauci is likely to have his security upped amid the COVID-19 outbreak, owing to threats to his personal safety.
As per a recent report, the Department of Health and Human Services and the U.S. Marshals Service are taking adequate measures to curb any untoward occurrences in regard to the doctor's security. While the extent of the threats remains to be unknown, insiders believe the expert's transparent and outspoken ways have amassed widespread criticism and appreciation.
Fauci has made headlines in the past owing to his forthrightness in political matters—which included correcting President Trump's misstatements. The 79-year-old expert recently suggested Trump to extend the social-distancing guidelines while presenting a bigger picture of the global pandemic, which continues to infect millions across the United States.
Currently the director of the National Institute of Allergy and Infectious Diseases, Fauci has been presenting incisive findings about the coronavirus to the President, while also addressing ways to mitigate the effects on the economy in the long run.
On being asked to comment on the same on Wednesday, Fauci said, "I would have to refer you to HHS [inspector general] on that. I wouldn't comment." His comments were immediately interjected by Trump who added, "He doesn't need security. Everybody loves him."
Insiders allege Fauci touched a raw nerve owing to statements where the doctor maintained that he would make constant attempts to guide Trump's statements but is helpless beyond that. He was quoted stating that he'd love to present an accurate picture to Trump, but "can't jump in front of the microphone and push him down."
Evidently unwilling to divulge details, an HHS spokesperson implicitly responded to the claims about doctor's security with a hint of diplomacy: "Dr. Fauci is an integral part of the U.S. Government's response against COVID-19. Among other efforts, he is leading the development of a COVID-19 vaccine and he regularly appears at White House press briefings and media interviews."
Several pro-Trump communities have slammed Fauci for his grim predictions. Citing how his assumption about the influx in the mortality rates was "going to destroy the U.S. economy based on total guesses and hysterical predictions."
Things, however, are far from getting ugly between the expert medico and Trump, as officials close to both believe they share a healthy working relationship. Trump, who triggered anxiety among health professionals, after declaring his desire to lift the lockdown, heeded Fauci's suggestion to extend the social-distancing guidelines for another 30 days.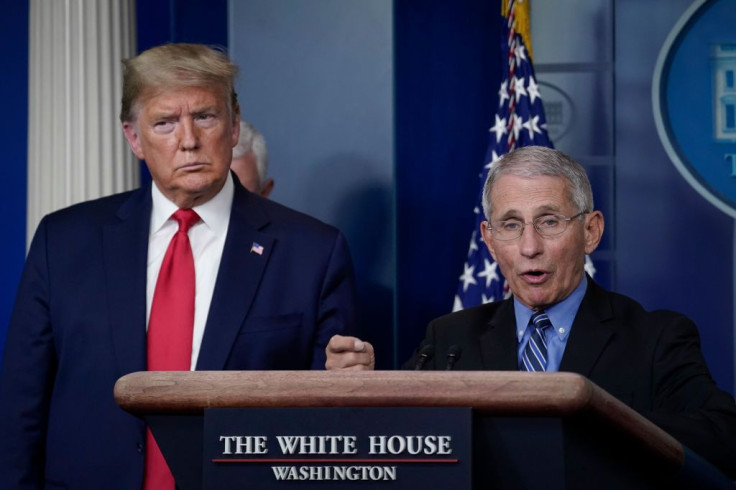 © 2023 Latin Times. All rights reserved. Do not reproduce without permission.