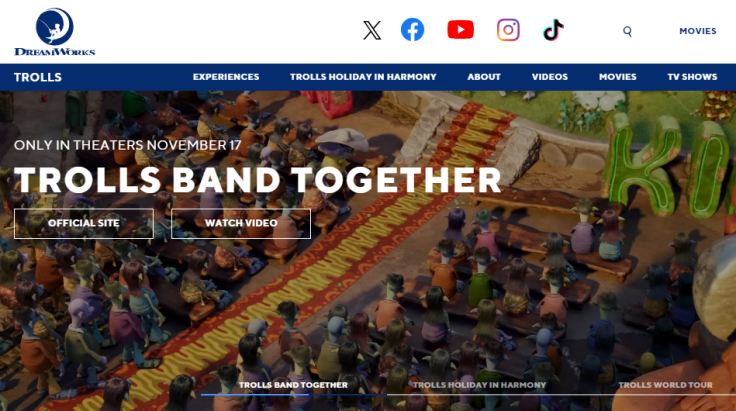 DreamWorks Animation (DWA) has laid off dozens of staff in various departments as the "Trolls" producer implements cost-cutting measures amid an industry downturn.
"DreamWorks Animation reduced its workforce by approximately 70 positions. Roles affected were across corporate functions, feature, television and technology departments as part of an overall cost-reduction," a spokesperson for the animation company said, as reported by The Hollywood Reporter Sunday.
It is believed that the layoffs were made amid a downturn in the company's business, rising production costs and widespread Hollywood strikes, according to Deadline.
DWA previously eliminated 33 roles in May, citing cost-reduction measures. At the time, the animation company said the layoffs affected mostly support-related jobs such as technical directing roles, production artists, compositors and lighting workers.
This week's layoffs were conducted about two weeks after Hollywood writers concluded their monthslong strike that crippled the entertainment industry. Leaders of the 11,500-strong Hollywood Writers' Guild ended the strike last month with analysts hoping that projects would resume now that the strike was over.
It is unclear if DreamWorks Animation was affected by the strike. The animation company did not immediately respond to International Business Times' request for comment.
DreamWorks is set to release "Trolls Band Together" on Nov. 17. It is the third film in the successful "Trolls" franchise, which will see Anna Kendrick and Justine Timberlake reprising their roles as Poppy and Branch, respectively.
Meanwhile, it appears that DWA has been undergoing changes in recent weeks, even before the confirmation of the layoffs.
Last week, Cartoon Brew reported that the company was transitioning to rely more on third-party studios instead of producing films in-house at its facility in Glendale, California, amid low morale at the studio.
DWA chief operating officer Randy Lake reportedly told employees in a series of meetings in September that the company would transition to relying more heavily on third-party studios by 2025 and that none of the studio's three films being created for a 2025 release would be developed fully in-house.
One of the said films will be produced in collaboration with Sony Pictures Imageworks while another unannounced movie will be animated entirely at partner studios, according to the report.
DreamWorks is just one of several animation companies that have implemented job cuts this year. The list also includes Lucasfilm, which revealed in August that it was winding down its Singapore operations after nearly two decades in the area. The company's Industrial Light & Magic (ILM) studio in the Southeast Asian country had more than 300 employees before the announcement.
In June, Walt Disney's Pixar laid off 75 roles, including two executives who worked on the box office flop "Lightyear," sources said at the time. Amazon also reportedly cut around 100 jobs from its entertainment divisions, Amazon Studios and Prime Video, in April, with at least two executives being let go as part of the reductions.