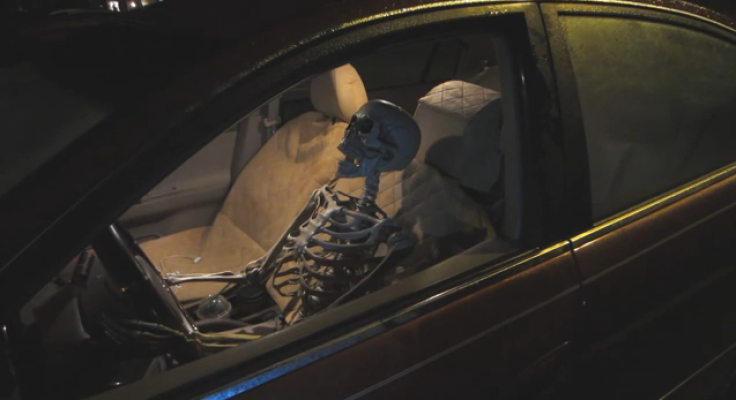 The staff at several fast-food establishments got the scare of their lives when a customer showed up to pick up an order but it turned out he was a skeleton. A U.S. prankster filmed all the hilarious reactions while hiding in a low-budget car-seat costume made of cardboard. It matches the interior of his car and it looks as if nobody is controlling the vehicle, but this time around, he placed a skeleton to make it seem as if the bones were driving the car. YouTube user Magic of Rahat is the mastermind behind this prank and he even has the skeleton move and jump out towards the windows, as well as talking.
The responses from the employees varied. As Daily Mail described, "Some people are so terrified they hyperventilate and can't get any words out, crying and wailing. Others are unfazed by the prank and chat with the skeleton, getting their phones out to film it. 'Somebody's childish,' one woman says. Another admits: 'I'm scared.'" Almost every time, the staff were startled at first, and then pulled out their phones to record the prank. Yahoo explained that Rahat was polite with the employees. "Drive-through workers unlucky enough to encounter the bony driver are uniformly freaked out, especially after Rahat makes the skeleton jerk toward the window... Rahat is a polite prankster. At one point, he (or rather, the skeleton) has a full conversation with a group of workers about chicken nuggets."
But one thing is for sure, we're officially on Halloween month! And, as Huffington Post explains, "Much like the appearance of pumpkin spice lattes at Starbucks are a sign of Fall, you officially know it's October and Halloween is on the horizon when the skeletons come out in online hijinks."
Watch the video below and let us know if you laughed as hard as we did with the hilarious reactions!
© 2023 Latin Times. All rights reserved. Do not reproduce without permission.