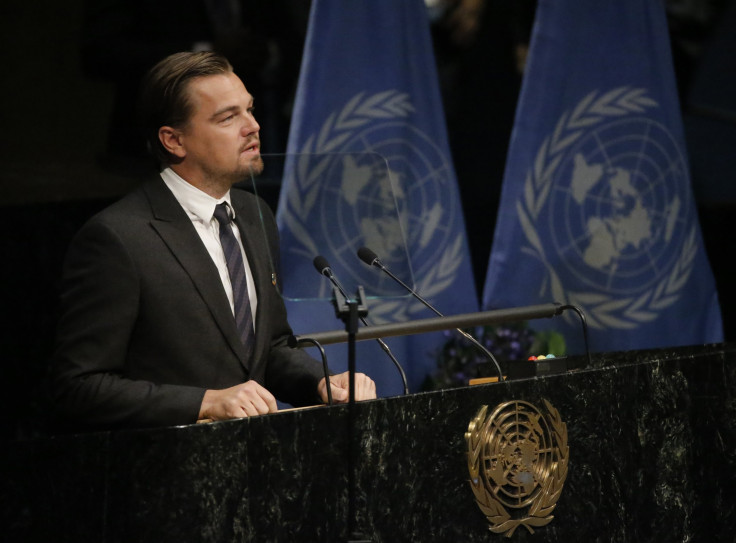 This year, the United Nations have decided to celebrate Earth Day in a very special way, by signing the Paris Agreement: a landmark climate change accord that came out of negotiations at the COP21 climate summit in Paris last December. This, of course, was extremely great news for climate advocates and ambassadors all over the world, including Oscar-winning actor and UN Messenger of Peace, Leonardo DiCaprio.
While 171 countries have reportedly signed the historic agreement today, (surpassing the previous record of 119 signatures for an opening day signing in 1982), there's no denying that implementing measures and taking action will be the real challenge.
After thanking Secretary General Ban Ki-moon for "the honor to address that body once more, the actor and activist began with his speech. "We can congratulate each other today, but it will mean absolutely nothing if you return home to your countries and fail to push beyond the promises of this historic agreement."
The actor also spoke about the damage we are doing to future generations, and how shameful it is. "Now think about the shame that each of us will carry when our children and grandchildren look back and realize we had the means of stopping this devastation, but simply lacked the political will to do so," he said.
The actor also insisted that, as hopeful as the agreement is, it will not be enough to save the planet. "Our planet cannot be saved unless we leave fossil fuels in the ground where they belong," he continued. "No more talk, no more excuses, no more 10-year studies," he pressured. "Now is the time for bold, unprecedented action."
"This is the body that can do what is needed, all of you sitting in this very hall. The world is now watching. You will either be lauded by future generations or vilified by them," the actor said before quoting Abraham Lincoln, who he mentioned at the beginning of his speech, as well.
© 2023 Latin Times. All rights reserved. Do not reproduce without permission.