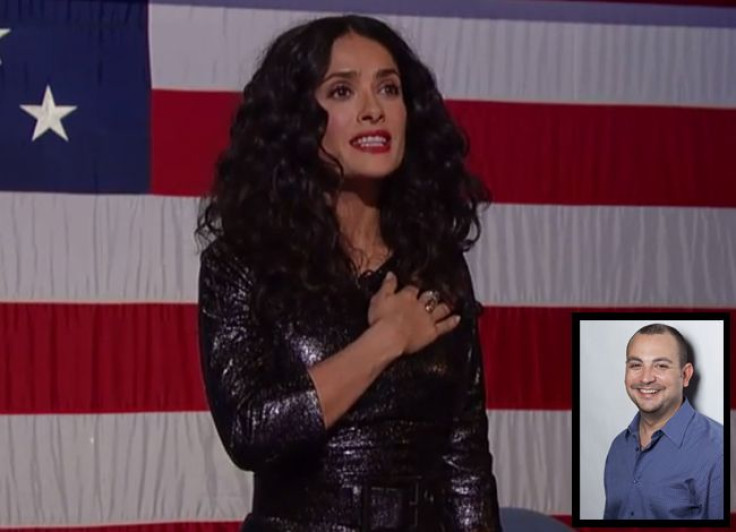 The first thing I do every morning is check the websites of my favorite newspapers in my native Mexico. Yesterday morning, the first headline that caught my attention was that Salma Hayek had forgotten the lyrics to the Mexican National Anthem on the David Letterman Show, but that she had perfectly sung the U.S. one. Immediately, I emailed one of my writers and told her: "let's do this story, it's going to cause a commotion." Once in the office, I looked up the video on YouTube to see how bad Salma had messed up.
And as I was watching the clip, I couldn't find anything wrong with Salma. What were they talking about? In what moment did she forget the lyrics? I had to rewind and replay the video a couple of times until I realized there was no such mistake. Salma simply sings a couple of lines from the Mexican Anthem and gets interrupted by Letterman. It was clear that the person who wrote the story for the Mexican outlet CNN Mexico, later reproduced by Quién, had not seen the video. Either that or she simply hates Salma. There is no other explanation. And it wouldn't be the first time Hayek falls prey to the claws of her own country's media.
The problem is that the first story published in the morning only helped create a plethora of false news about "Salma's mistake." By the evening, newspapers like Excélsior mocked her with the headline "Salma Only Knows Other Anthem" and even went to say that she committed the biggest embarrasment of her life -- of course, there's no embedded video. Reforma and El Universal, México's mainstream newspapers, reproduced the same headline "Salma Sings The U.S. Anthem Better Than Mexico's". What? Did we watch a different video?
When I got home and saw my Facebook, some friends were lamenting over Salma's "huge stumble" and practically were stoning her: "You're a disgrace to Mexico," reproducing the above mentioned headlines.
Now, I do not care in particular for Salma Hayek -- as a Mexican I was rejected by her too one day before the Oscars when she was nominated for her acting role in "Frida" and worse, pushed by then boyfriend Edward Norton -- but that does not make me blind or biased. Why would we publish a lie about Salma Hayek? I personally answered all FB posts on Salma telling my friends: "Did you see the video? Watch it then have a formed opinion."
RELATED: Watch Salma Hayek Sing The American National Anthem On TV
The truth is, Mexico does not like Salma Hayek. The media and many celebrities can't stand that she made it in America, that she got nominated for an Oscar and that she got married to one of the richest men in the world. Granted, when Salma did press for "Frida," the only country she didn't talk to was from her own Mexico. Only two outlets were allowed to talk to her in a roundtable. She didn't accept Mexican media during the filming in Coyoacán neither, and by the time she got nominated for an Oscar for her performance, she did not give a statement to the press of her native country.
In a way, the perception was that the actress had turned her back on Mexico. But she has always defended her "Frida" attitude as a barrier towards a media that wouldn't understand why she was making a movie in English about Frida Kahlo, and that would crucify her. And she is right, "Frida" was box office poison before it even opened in Mexico. Her Oscar nomination caused major laughs and jokes, it was never shared with pride.
A majority of Mexicans can't stand to see Gael García Bernal or Diego Luna triumphing in America. The fact that they come from telenovelas seems to be unforgivable. The crossover of Demián Bichir, who got nominated for an Oscar in "A Better Life" and has starred in "Weeds" (Showtime) and currently "The Bridge" (FX), is more permissible because he comes from a cinema background and is still working in Mexico. But to see a rag to riches story like Salma Hayek's come to fruition, with levels of success no other Mexican has ever reached before, seems like a mortal sin.
Will they ever forgive her for knowing the entire lyrics of the American National Anthem? ... No wonder the actress does not want to live in Mexico again.
Ernesto Sánchez is the Editor In Chief for Latin Times.
© 2023 Latin Times. All rights reserved. Do not reproduce without permission.