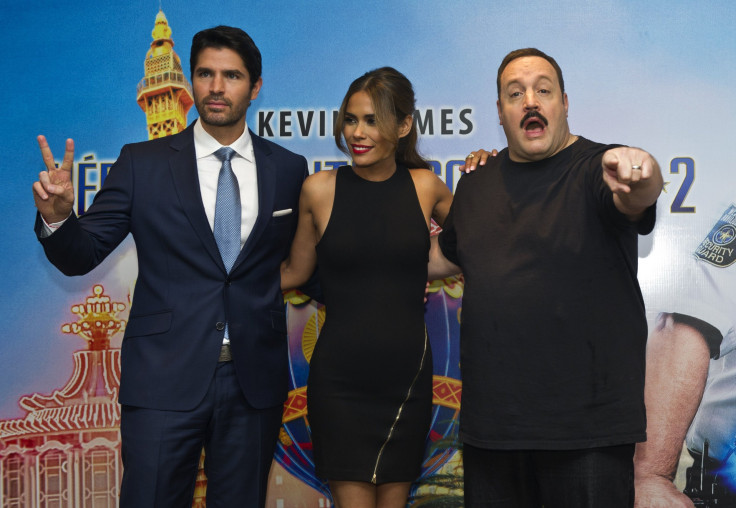 Although comedy is not Eduardo Verastegui's strongest suit (or so he thought), he gave it a try after his pal Kevin James gave him a call and asked him to participate in the "Mall Cop" sequel. "I received a call [from Kevin] and he was in Florida and he said 'Eduardo, I'm writing "Mall Cop 2" and I want to write a role for you brother and it's gonna be a new challenge for you, it's a comedy but don't worry," Verástegui told Press Pass Latino in a recent interview. The two actors previously met while working on the movie "Little Boy" which Verástegui executive produced and starred in as Father Crispin.
The former telenovela starsays he was extremely nervous to take the part since he'd never done comedy, much less American comedy. "I was nervous because I said 'Are you out of your mind? I mean thank you but I don't want to ruin your movie' and Kevin said 'No, no, no, this is for you! And I'm writing it for you and I'm gonna take care of you.'" Even so, Verástegui decided to part take in the movie because of his friendship with Kevin James and the values the film reflects about family and traditions that have sadly been lost these days.
The Mexican actor says it's something he always looking for when searching for new projects to produce. "With my producing company we're always trying to find movies that not only have commercial potential but can also make a difference in our society by promoting basic values that these days are sadly getting lost. So that's why, when a movie like "Mall Cop 2" comes along, which is not only a great project but it shows how to be a good father and how you can be your own hero, of course I wanted to take part in it," expalined Verástegui to the Mexican media.
"It's really hard to find those movies that have those themes and that give more to our audience. We want people to leave the theatres inspired, full of hope, loving more and judging less," the actor concluded.
© 2023 Latin Times. All rights reserved. Do not reproduce without permission.