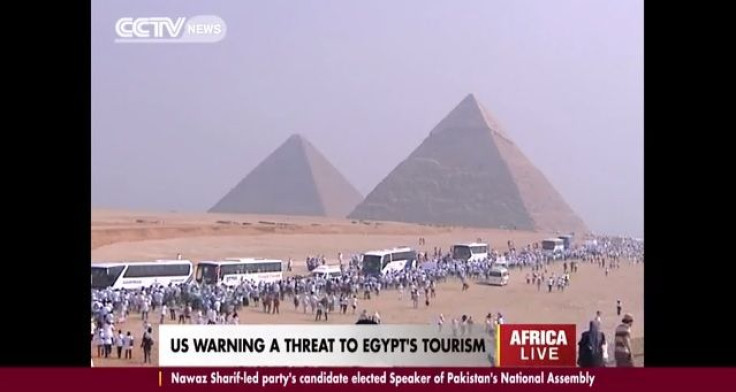 Last week the United States issued a warning to its citizens who were traveling in Egypt, visiting the pyramids. The Egypt pyramid warning from the US told tourists to keep their guards up when visiting the historic tombs because (they say) security around the pyramids has been lacking.
The US Embassy message to US citizens in Giza told them to "elevate their situational awareness" when visiting the pyramids.
According to the Associated Press the Ministry of Egypt's Antiquities slammed the US for what they call a "baseless warning." The Egypt pyramids warning was referring to incidents in the pyramid area in Giza where people were attempting to break into cars with the drivers and passengers still inside.
According to Yahoo News the Ministry is insisting that the area in Giza near the Pyramids is safe and secure. Other reports have stated that security in the area has diminished since the 2011 revolution because the numbers of tourists in the area has declined.
Following the 2011 revolution in Egypt which ousted former President Hosni Mubarak the people of Egypt are still struggling to see more change in the way their country is run. The Los Angeles Times reports that the youth of Egypt still feel powerless after the revolution.
Albawaba.com says that since the revolution the number of women who are being sexually harassed has increased. According to the report 99.3 percent of women in Egypt have admitted to suffering some form of sexual harassment or violence.
Some activists believe that the number reported is too small because many women will not report harassment or rape believing they have been shamed or dishonored.
"What is different now [post revolution], and why this has been brought to public and international attention, is that we're witnessing a number of very violent assaults and rape," Albawaba.com reports Diane Eltahawy of Amnesty International Egypt as saying.
Women are not the only group in Egypt being targeted since the revolution. There has been an increase in violence against journalists since 2011. Fox News says hundreds of journalists have been attacked and killed in the two years following the revolution. The last murder of a journalist in Egypt prior to the revolution took place in 1992.
Egypt is still struggling since the revolution. Political and social divisions between the Muslim Brotherhood and those who would resist them still plague the country.
© 2023 Latin Times. All rights reserved. Do not reproduce without permission.