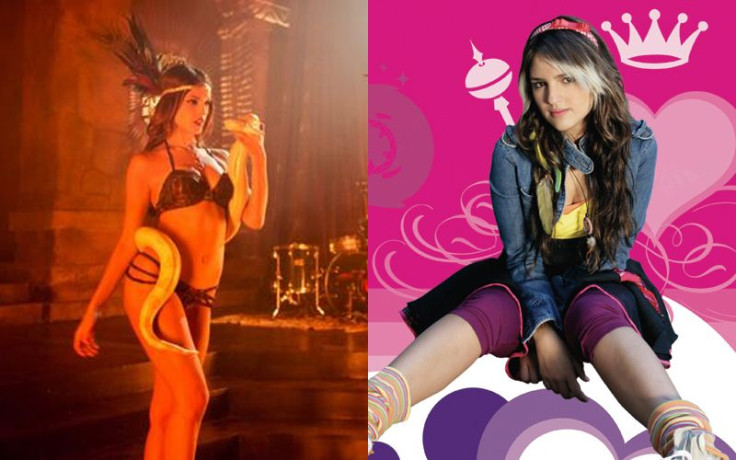 Eiza Gonzalez had enough of the trolls calling her out on her "chubbier" days and lashed out on Twitter. The "Amores Verdaderos" star shot back at the haters recalling her "Lola, Erase Una Vez" era where her cheeks were a little fuller compared to how she looks today. "Lola" was her first acting gig on television and it was a huge project, coming from Pedro Damián right after the major success of RBD and "Rebelde." Gonzalez defended herself from these attacks and put them in their place. "How funny that people think they offend me when they tell me I was fat in 'Lola,'" she said in her first tweet. "Get over it! That was 7 years ago. Do you think people don't grow? I don't need to go under the knife to not have cheeks and to look how I do. It's called maturing, growing, losing weight and I die to see your photos at 16. For sure I will only see models. We all have bad stages, the only difference is that nobody exposes you and you didn't grow in the public eye."
Although she had concluded her rant, it seemed she still had more to say and posted a longer response. "At the minimum, I have had the ovaries to accept everything I do," she added. "I don't have a double moral like the majority, like the time I admitted that I had a nose job. Do you know how many people a day have that intervention? They don't even live off of their image and I am not saying that I didn't do it like many people. When you are honest, they want to attribute a million more things to you. The day I do something to make myself look better, trust me, I will share it with you so you can consider it if you may need it. For now, you are traumatized because I am so skinny? Well, I wake up to go to the gym everyday, although I am dying to eat chocolates all day. It's not magic, it's very easy, it's about being conscious. If you guys want it, you can make it happen and live happy. Be consistent and you will see."
After giving her fans tips on how to maintain her thin figure, she wrote another piece about bullying. "To everyone that is bullied, don't give in to all those negative remarks," Eiza continued. "Those people are rotten and bitter inside and that's what makes them ugly. Everyone is beautiful in their own way and what is most important is to be a BEAUTIFUL person, that is the most powerful beauty. Love every stage of your life, be happy because one doesn't know when it will end. Love your body in every moment, nobody knows what is going on with your life, but yourself. Nobody has the right to judge you! Everyone things they are good examples, that when we analyzed their lives we would find thousands of errors."
"I love people just the way the are and something that has characterized me is my honesty. I have always been happy in all my stages, I love myself and this is how it will continue to be. What people think it's only a reflection of what they want to be or hate about themselves. People that are stable don't have the necessity of attacking. The insecure instead of working on themselves they like to degrade people to feel better about themselves. They only reflect their insecurities and believe that we don't see that. #LiveAndLetLive, don't hate people's triumphs and work in themselves. The less you waste energy on others and more on themselves, maybe they can reach their dream. That is what I do and up until now it has worked for me very well. I share that with you, I love you and all the positive energy to all of you."
© 2023 Latin Times. All rights reserved. Do not reproduce without permission.