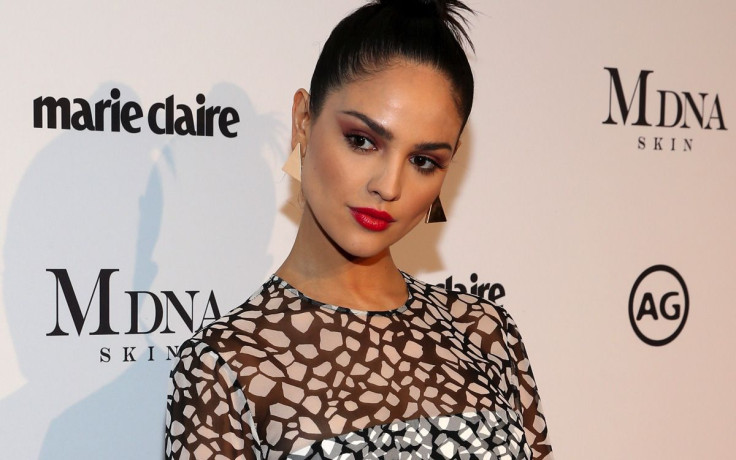 Eiza González is one of the rising Latina stars in Hollywood and is celebrating her birthday today. Glenda Reyna, the "Baby Driver's" mother, surprised her with a letter that left her in tears. "Today the most important from you to me is being your mother and you being my daughter," she wrote. "It doesn't matter where you are, nor the distance, nor how many steps you go up or down... I will always see you, feeling you, living you and loving you as my daughter. That's a magical word that encompasses the great mystery of life and in which the road of mother and daughter are what makes existence a sky full of light and love. Happy Birthday my lovely, caring and loving daughter."
The former telenovela star was quick to reply saying she was left crying, being moved by her mother's words. "You made me cry, I love you," Eiza wrote. "How to not be strong, if all I know is the struggle and the kindness of someone like you. Our peaces knows of the heart we have, that you gave me, that you raised me. Thank you for making me the woman that I am today, for taking me through the right path and for always accepting me and listening to me, supporting me in the good times and the bad times and making me better through the storms. This life is not the same without you. I admire you deeply mommy, together until the end."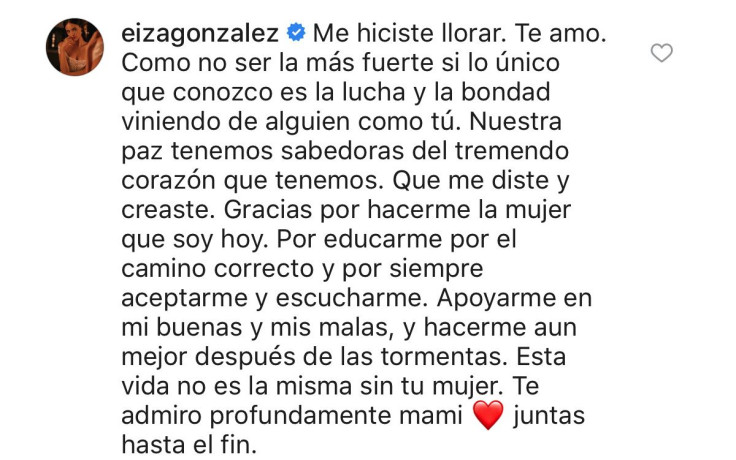 Eiza González is an advocate to seeing more representation of Latinos in Hollywood. She recently took to Twitter to predict that "Black Panther" would be a huge box office hit as it features an entire African American cast. "I had said this to a lot of people but yet not twitted. Mark my words. Black Panther is gonna be on the biggest successes of Marvel ever," she wrote in a first of a series of tweets. "It's been proven over and over again but studios yet don't wanna see that, the more inclusive they are the more successful your project will be."
"Finally giving the black community a ALL BLACK cast of superheroes is absolutely empowering for all of us, it's beautiful to let there culture have that moment," she continued. "And everyone will support because it's empowering for other cultures like mine and gives us hope to one day a we'll be portrayed in an uplifting way."
Eiza González called out the lack of diversity among the minorities featured in movies. "You can cast more than ONE diversity. No you don't have to put all people of color in one same category, Latinas shouldn't be competing against Asian or black, we should ALL get a seat at the table. Because that the real world a beautiful melting pot of cultures and ethnicity's," she wrote.
"When you portray any other culture, race, sexuality or even just women in an uplifting way = success," she added. "Is it that hard to understand? 'Wonder Woman', 'Coco', 'Black Panther' etc... [by the way] they label these decisions in the industry 'gambles' wonder why because the 'gambles' = biggest successes ever. Pretty IRONIC."
The actress also pointed out how the studios often go back on taking "risks" in casting minorities in film. "They take those risks once a year and then they all wanna copy the idea because it was successful for someone else, and then at the last minute they go back to safe and cast the obvious. It happens to all of us the minorities EVERY DAY. I'm sure it happens in every industry," she continued.
Eiza ended writing: "Hopefully this movement of empowerment opens up the conversation of minorities being typecasted or ignored on a daily basis. Because that is definitely a big elephant in the room that needs to be addressed."
© 2023 Latin Times. All rights reserved. Do not reproduce without permission.