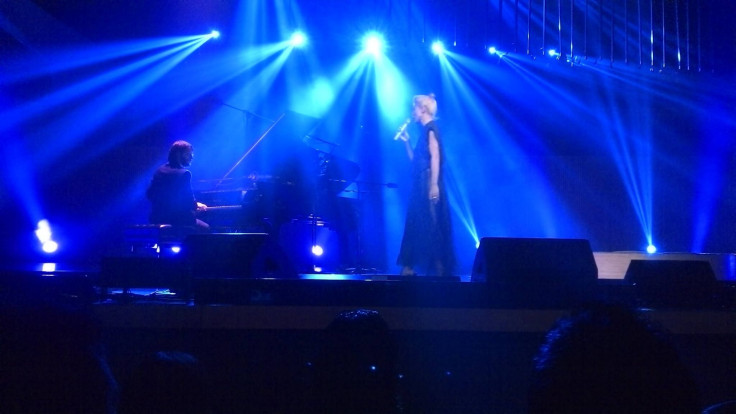 Ely Guerra has always been lauded for the tessitura of her voice, the leaps -- or risks -- she has taken from one album to the next, and the musical diversity she has covered during her 20-year career. And even though she has sung many times a capella, with nothing but her powerful voice and a guitar, this weekend represented one of the highest moments in the life of the Monterrey born musician. El Origen, a piano recital in which she juxtaposed the earlier songs of her repertoire ("El mar", "Lágrimas de agua salada", "¿Por qué tendría que llorar por ti?") with some of her recently found love for Mexican traditional tunes ("Espinita", "Solamente una vez", "El triste"), resulted in a most deserved standing ovation from the public.
Guerra shaped her voice in elegant fashion to suit the new piano arrangements from long time band player and friend Nicolás Santella, and in a very welcomed surprise, a chorus of 12 people dressed in black accompanied her during "Stranger," "El tiempo," and in the very exciting reunion with Beto Cuevas to reprise their duet "El duelo," a song that in a way launched Guerra to international fame more than a decade ago when she lent her vocals and guitar during the recording of Chilean band La Ley's "MTV's Unplugged" performance.
Ely Guerra fascinated, enchanted and suprised with the most sober and mature of her concerts, one that will see the light of day in CD next year, and that might tour inside Mexico. During her two performances last weekend, the set lists changed a bit, particularly on Friday when she invited Tania Libertad and Eugenia León to the stage to perform "El último trago," "La llorona" and "Volver, volver," part of the tribute they did to Chavela Vargas a year ago on Carnegie Hall.
With "El Origen," Guerra caught up with that girl that 20 years ago landed in the Mexican scene to announce she was a force to be reckoned with. And the result... she is one of Mexico's most valued vocal,lyrical and musical treasures. Oh Miss Guerra, won't you bring "El Origen" to the U.S.?
Check out two of the highlights of "El Origen" below:
© 2023 Latin Times. All rights reserved. Do not reproduce without permission.