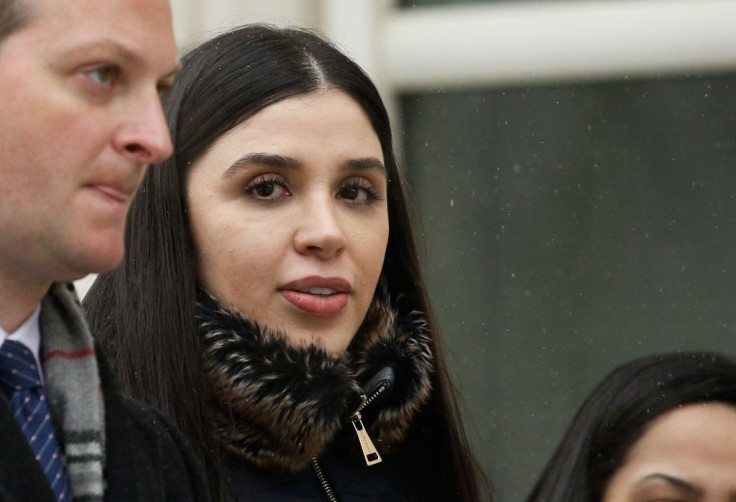 Emma Coronel Aispuro, the wife of infamous Mexican drug lord Joaquin "El Chapo" Guzman, was released from a U.S. prison Wednesday after serving almost two of the three years of her sentence on drug trafficking and money laundering charges.
The 34-year-old former beauty queen was released from a residential re-entry facility in Long Beach, California, after she was sentenced for her role in Guzman's multibillion-dollar narcotics empire, CBS News reported.
Earlier this year, Coronel was transferred to the halfway house from a federal prison in Texas, where she served about 18 months. Under her plea deal, she agreed to submit about $1.5 million in illicit proceeds from her husband's illegal businesses.
Coronel, a dual U.S.-Mexican citizen, married Guzmán, who was the head of Mexico's Sinaloa Cartel at the time, in 2007, on her 18th birthday. Eventually, she caught public attention with her opulent lifestyle and social media habits. A fixture at her husband's trial, Coronel was often surrounded by paparazzi and publicity handlers.
Coronel was arrested at Dulles International Airport near Washington in February 2021. Months later, she was sentenced to three years in prison in November 2021 after pleading guilty to the charges that she helped El Chapo smuggle drugs and break out of a high-security Mexican prison in 2015, as per a statement by the U.S. Justice Department.
"With all due respect, I address you today to express my true regret for any and all harm that I may have done, and I ask that you and all the citizens of this country forgive me," she said during her sentencing in Spanish through an interpreter, according to Reuters. "Perhaps for this reason you feel there is a need for you to be harder on me, but I pray that you not do that."
After escaping the prison, Guzmán was caught and returned to prison. Two years later, his wife hatched another plan for his escape.
"To facilitate the escape, Coronel Aispuro assisted in the purchase of a property near the prison and provided Guzman Loera with a watch that contained a GPS tracking device, allowing co-conspirators to dig a tunnel from that nearby property, under the prison, to Guzman Loera's cell," the Justice Department said in the statement. "Coronel Aispuro even relayed messages from Guzman Loera to other members of the Sinaloa Cartel regarding the operation of their illicit activities while he was detained."
The drug lord was eventually arrested and extradited to the United States. He was convicted in 2019 and is now serving a life sentence plus 30 years in Colorado's Supermax prison on drug conspiracy and firearms charges. He was named the "ruthless and bloodthirsty leader" of the Sinaloa Cartel by prosecutors.
Earlier this year, members of El Chapo's drug cartel, which remains in operation, were sanctioned by the Biden administration for their involvement in the trade of illegal and deadly fentanyl across the U.S.
© 2023 Latin Times. All rights reserved. Do not reproduce without permission.