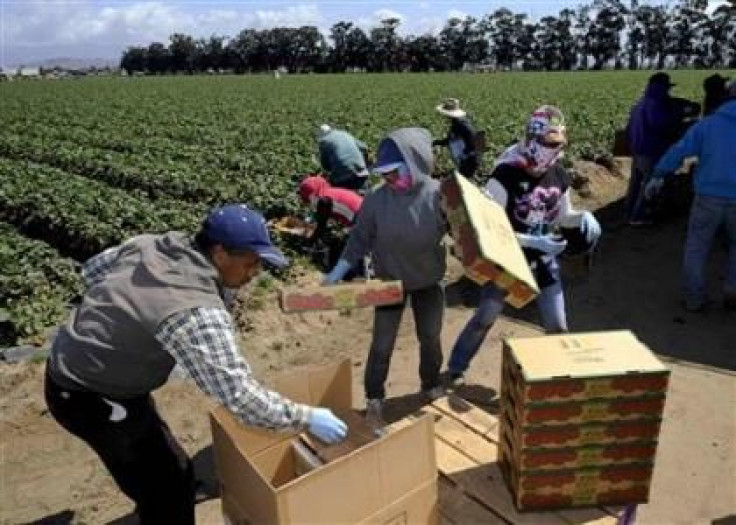 The New York Times reported on Tuesday that a new study commissioned by the American Farm Bureau (AFB) and a coalition of other farm groups – the biggest agricultural lobby in the nation – predicts that food prices could spike by as much as 6 percent over the next five years if Congress passes legislation aimed at ramping up enforcement without also extending legal status to undocumented farm workers. The study comes as House Republican leaders have signaled they will not launch a full-scale push for a reform with amnesty, amid pressure from their party's conservative Tea Party wing.
The Times notes that the study says that fruits and vegetables, which have to be picked by hand, as well as livestock production, another labor-intensive sector, would be the hardest-hit by the enforcement-only approach promoted by many of the House GOP's most conservative members. Fruit production would drop 30 to 61 percent and vegetables 15 to 31 percent, it claims, with livestock falling 13 to 37 percent. Kristi Boswell, congressional relations director for the Farm Bureau, told southern California's 89.3 KPCC that the industry stands to lose $30 to $60 billion in output.
Over a five-year implementation period, the report suggests, that would be enough to "trigger a large scale restructuring of the sector, higher food prices and greater dependence on imported products". It adds that even enforcement with legalization for undocumented workers would be "only slightly less disruptive", citing those workers' tendency to take agricultural jobs shortly after arriving to the country and going to move into other sectors. The Farm Bureau has pushed for an expansive new guest worker program and gave its approval last summer of the bipartisan Senate immigration reform bill.
As the Latin Times noted in May, the Senate bill would've done away with the H-2A visa currently used for agricultural work and created a new W visa which would have made it easier for farm workers to stay longer in the US, change employers, and eventually obtain permanent residence.
© 2023 Latin Times. All rights reserved. Do not reproduce without permission.