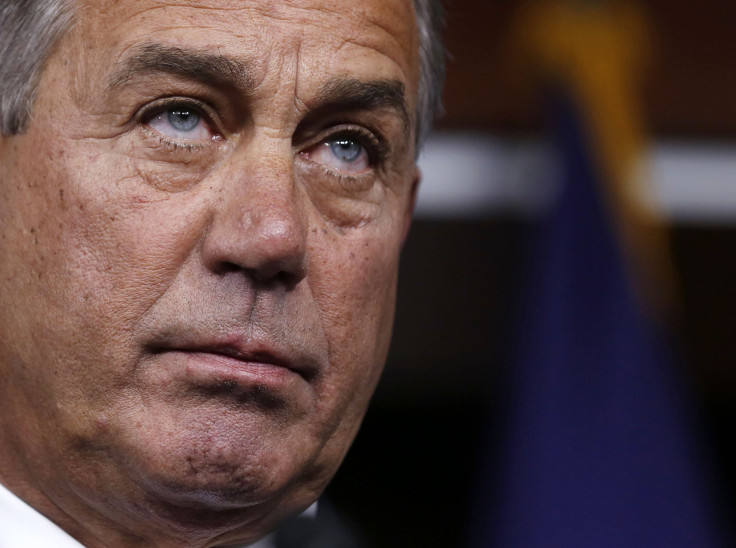 The prospects of immigration reform this year are looking less and less promising. Conservative Republicans have come out against it – at least before midterm elections in 2014 – and other influential GOP members in the House and Senate have expressed doubt in its chances of passing. Now, House Speaker John Boehner may have stacked his bets against it. "There's widespread doubt about whether this administration can be trusted to enforce our laws," he said at his weekly press conference on Thursday, according to the Associated Press. "And it's going to be difficult to move any immigration legislation until that changes."
The speaker reaffirmed his support for reform, saying collaboration between Congress and the administration to pass immigration reform "needs to get done", according to Fox News. But he also echoed other conservative supporters who have expressed doubts that GOP rank-and-file will get behind it, blaming the Obama administration for fomenting a lack of Republican trust. Boehner pointed specifically to the president's series of executive actions modifying or delaying the implementation of the healthcare law, which conservatives have cited as evidence for doubts that the administration and the Department of Homeland Security would follow through on border-security stipulations included in any new laws.
Boehner had given new life to the hopes of immigration reform advocates toward the end of 2013, when he blasted Tea Party groups for their opposition to a budget deal – groups which tend to take a hardline conservative stance on immigration – and hired Rebecca Tallent, an advisor to Sen. John McCain in previous efforts to pass a bipartisan immigration law and former director at the Bipartisan Policy Institute. That, along with the unveiling of House GOP "statement of principles" at the end of January, was widely received as a signal that he would launch a new push to schedule a vote on it by the end of the year.
The AP writes that White House spokesman Jay Carney rejected the idea that the president was responsible for continued inaction on immigration reform, saying, "The challenges within the Republican Party on this issue are well-known, and they certainly don't have anything to do with the president." But Carney struck a placatory note with regard to Boehner's doubts, while emphasizing the need for the issue to be addressed this year. "Nothing like this, nothing as important, nothing as comprehensive ever comes fast or easy in Washington, so this won't be any different."
© 2023 Latin Times. All rights reserved. Do not reproduce without permission.