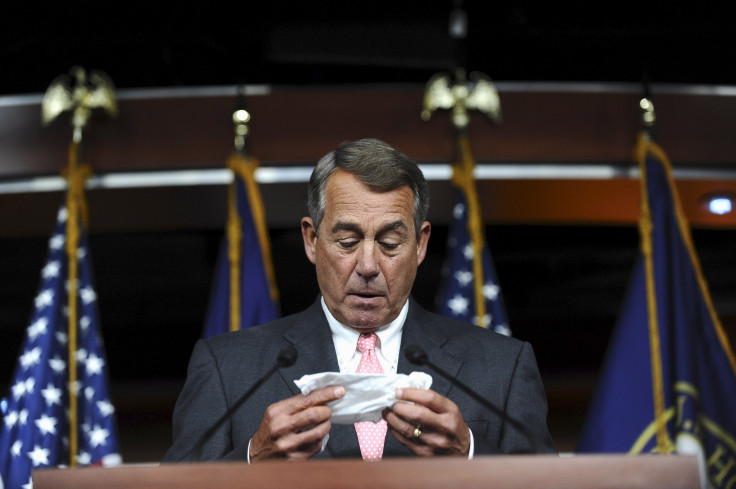 Rep. John Boehner (R-Ohio) had an emotional day with Pope Francis Thursday, and was seen crying at least three times during his interactions with the Vatican leader. On Friday, he announced that he had decided to resign resign from Congress, including his important role as speaker of the house. Boehner, a Catholic and a former altar boy, said that the Pope did not convince him to resign. But he did acknowledge that the meeting was emotionally important to him and that he decided only Friday morning that today would be the day.
"Last night I started thinking about this and this morning I woke up and I said my prayers -- as I always do -- and I decided today's the day I'm going to do this," Boehner said at a press conference in Washington, according to CNN.
The House leader has been thinking about ending his five-year reign since before the midterm elections last year. A Boehner spokesperson told Politico earlier this morning that he kept on following the unexpected defeat of Eric Cantor of Virginia.
What Boehner's Resignation Means For Immigration Reform
Pundits had speculated that Boehner could have held on to his speakership for longer, with Democrats and moderate Republicans supporting him against a agitating Tea Party caucus.
Enter Pope Francis, who on Thursday called on Congress to break the years-long gridlock and pass constrictive legislation that would address issues close to the Catholic faith.
"Was I emotional yesterday? I think I was," Boehner said of the many moments that he publically wiped tears from his eyes on Thursday.
Explaining his decision to step down at the end of October, Boehner told reporters of another emotional moment with the Pope. It occurred away from cameras, he said.
"As the Pope and I were getting ready to exit the building, we found ourselves alone and the Pope grabbed my left arm and said some very kind words to me about my commitment to kids and education," he said.
Then Pope Francis reportedly asked for Boehner's prayers, a hallmark of the Vicar's papal style.
"I mean who am I to pray to the Pope?" Boehner said, pulling out his handkerchief.
Like many who came into contact with Pope Francis on his U.S. tour, Boehner was humbled.
Boehner: Pope hugged me and said please pray for me. Who am I to pray for the pope? But I did http://t.co/PPEIjZPARm http://t.co/AmvnnI3WdT

— CNN Politics (@CNNPolitics) September 25, 2015
It wasn't a falling-off-the-horse epiphany, but Francis may have given the outgoing Speaker a "great day," the kind of reflection period and guidance that allowed him to medidate on one of his life's most important decisions. After all, isn't that what spiritual council is all about?
© 2023 Latin Times. All rights reserved. Do not reproduce without permission.