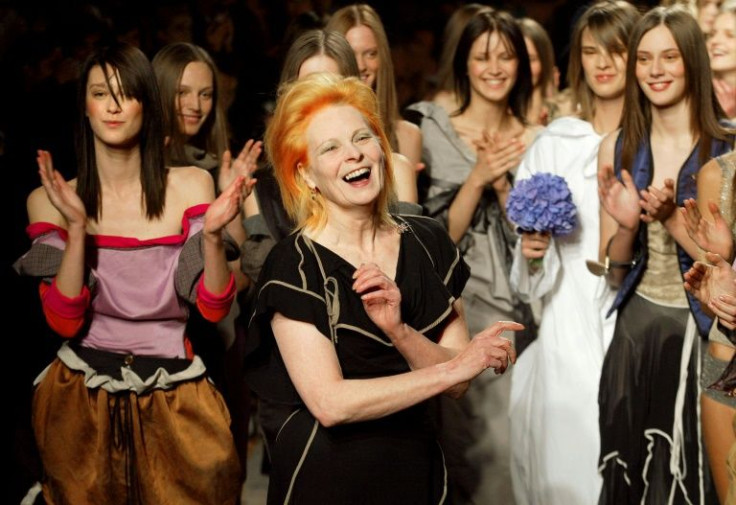 British fashion designer and style icon Vivienne Westwood, 81, has died Thursday. Westwood, a businesswoman who melded music and fashion, passed away peacefully, surrounded by her family at her home in London.
"Vivienne Westwood died today, peacefully and surrounded by her family, in Clapham, South London. The world needs people like Vivienne to make a change for the better," her fashion label's Twitter account said.
Born Vivienne Isabel Swire on April 8, 1941, in Tintwistle, Cheshire, England, she studied jewelry-making and silver-smithing, at the University of Westminster, then known as the Harrow Art School, but left after one term.
The three-time British Fashion Designer of the Year decided to pursue a career in teaching, feeling there was not a path forward for her as a working-class girl in the art world. She acquired her now iconic last name from her first husband, Derek Westwood, in 1962.
According to the BBC, she rose to fame in the 1970s after opening a shop in London with then-husband Malcolm McLaren, selling outlandish outfits that came to define the punk style. The shop was a favorite amongst members of The Sex Pistols, who McLaren went on to manage.
Westwood, from her punk origins, expanded her horizons to gain influence as a leading independent designer in the 1980s. It was then she became largely responsible for bringing modern punk and new wave style into the mainstream.
"It changed the way people looked," Westwood told Time magazine in 2012. "I was messianic about punk, seeing if one could put a spoke in the system in some way."
In 1981, at 40, Westwood launched her first catwalk collection with McLaren. The gender-neutral clothes evoked the golden age of piracy, highwaymen, dandies and buccaneers, according to CNN.
The English fashion designer dubbed the period 1981–85 "New Romantic" and 1988–91 as "The Pagan Years" during which "Vivienne's heroes changed from punks and ragamuffins to 'Tatler' girls wearing clothes that parodied the upper class"
Westwood's artistic contributions earned her national recognition in her native England, with the designer becoming an Officer of the Order of the British Empire in 1992 and later Dame Commander in 2006, USA Today reported.
Throughout her career, Westwood was also known for her polarizing political views and activism. In the 2000s, she created a manifesto, Active Resistance to Propaganda, that penetrated to the root of the human predicament and offered an underlying solution, according to the Guardian.
Before she passed, Westwood, alongside her sons and granddaughter founded The Vivienne Foundation (set to launch in 2023), that will honor, protect, and continue the legacy of her life, design, and activism.
She is survived by her third husband Andreas Kronthaler, whom she has been married to since 1992, as well as two children, Ben Westwood and Joseph Corré.
© 2023 Latin Times. All rights reserved. Do not reproduce without permission.