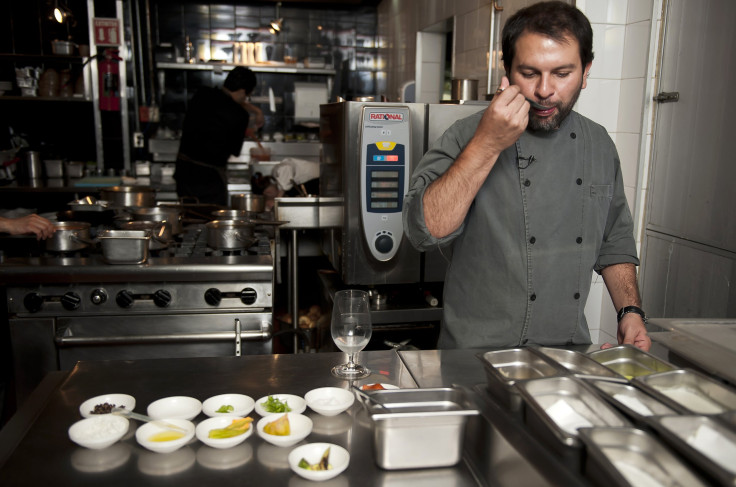 Highly respected Mexican cuisine chef, Enrique Olvera is the creator of Pujol, which occupies non other than the 20th spot in the 50 best restaurants in the world list.
Additionally, he's opened other restaurants in Mexico like Eno and Maíz de mar, and lucky for us his latest adventure has brought him to the Big Apple.
We had the chance to talk to the superstar Chef at his masterpiece restaurant Pujol (in its gorgeous conference room) where he ordered his coffee 'as usual' accompanied by a tiny 'polvorón' also known as Mexican wedding cookies.
To say he's the least pretentious guy I've met in the business is an understatement; I was immediately at ease talking to him as we kicked off the interview going straight into what his experience of opening a restaurant in New York was like. "The tricky part was the construction; we got advisors who didn't give us the best advice but it's like going to the doctor; if he says there's something wrong with your kidneys you have to trust him cause you don't know any better. If there's a next time, we'll know what to do for sure," he explained.
The highly anticipated opening of Cosme in the Flatiron district seems to be coming mid-September, "That is, if the damn gas company moves things along," says Olvera.
Latin Times: In the least pretentious way possible, what would you like to 'teach' people in New York about Mexican cuisine with Cosme?
Enrique Olvera: That's exactly what we don't want to do; we want to share our version of Mexican cuisine since we don't cook traditional food. I think 'authenticity' is a very tricky word because my food only feels authentic to me. The authentic chilaquiles in Oaxaca aren't the same as the authentic ones in Monterrey, so we're going to do the same. We're going to go the market, find the best seasonal ingredients and cook them in a Mexican way. It's already going to taste different because even ingredients like cilantro don't taste the same and we're using local products that we don't really cook with in Mexico. I'm not so focused on the food tasting like my Abuelita's but more on things being tasty and true to who I am.
LT: My understanding is that you're importing certain ingredients.
EO: Yes, having a 'tortilla program' is fundamental to a Mexican restaurant; you can have a great dish but as soon as you scoop it out with a bad tortilla, it's ruined. That's something that's very hard to find in New York. Most tortillas are done with corn flour and it's not the same. We're making them from scratch; from importing the corn to milling it, to making each tortilla to order. That's basically going to be the backbone of the restaurant. We're also importing the 'frijoles' and some 'chiles secos.'
LT: Now let's talk about you for a second. Tell us one of your guilty food pleasures; something that people wouldn't expect a chef to eat.
EO: Chinese food from the airport. I went to the Culinary Institute in Hyde Park, and I went to the movies every Sunday at the mall in Poughkeepsie; all the food court had was Taco Bell, McDonald's and Chinese food, so logically I became very fond of Chinese stand. I also appreciated it for it's sweetness and spiciness.
LT: What are the five staple ingredients in your fridge?
EO: Beer, good avocados always help, salsa, any kind to put on things and then a good dotation of vegetables–I eat pretty healthy at home; I'm basically a vegetarian there. Most of the meat I eat, I eat at restaurants–oh, and eggs; lots of eggs.
LT: Avocados are hard to find in NY, no?
EO: You have to know how to ripen them, most avocados are imported from Mexico so when we ripen them, they'll be just as good. Another trick with avocado is, it's fat, and most people serve it cold from the fridge, but you can't freeze fat, so the colder it is the less flavor it's going to have. I think that's going to be one of the assets of our guacamole; we're going to serve it at room temperature.
LT: What's in your last meal?
EO: Either quesadillas, avocado tacos or a combination of both, a cold beer and some good mezcal.
LT: Do you have any new books in the horizon?
EO: Yes, yes we do. We're working with Phaidon on a book about "Enrique Olvera." I didn't want it to be only about Pujol, but also about dishes we make at Maíz de mar, at Eno, because I believe many of the cookbooks about restaurants just stay on the shelves. While they're beautiful, people don't really go, "oh, let's use that book from that restaurant to cook their recipe," so we want our book to have both components; if people want to see our work and understand more about Pujol, they will find it in the book, but if they want to find a good guacamole recipe, or how to do chilaquiles, they'll have that too. In fact I think that will link people to Pujol too, since it's not separate from that type of food.
LT: Are you moving to New York for good?
EO: At least for now I am. I'm planning to stay in New York for as long as it's necessary for Cosme. What's a little bit uncertain is the future of Pujol, if it stays open, if not, whether it'll stay the same or we make drastic changes… I think every restaurant has a life span and Pujol has always adapted to the times and I think it's time to make a more drastic adaptation. We make subtle changes every year but this time I want it to be more profound.
LT: We wish you the best of luck in your new endeavors in New York City. See you in Cosme really soon!
© 2023 Latin Times. All rights reserved. Do not reproduce without permission.