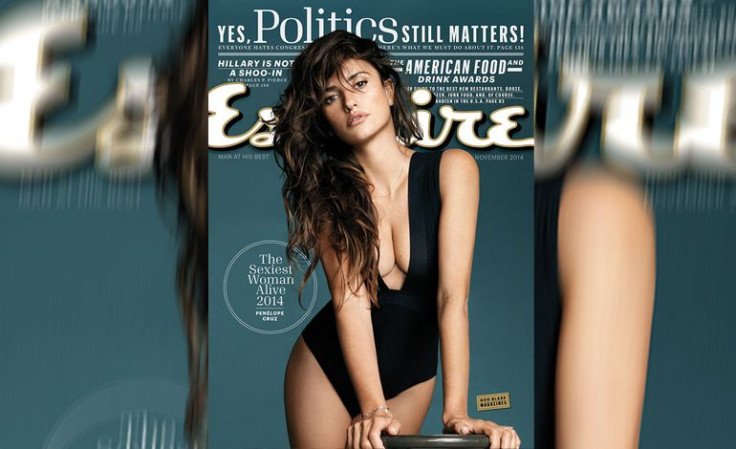 Spanish beauty Penelope Cruz has been named the 'Sexiest Woman Alive' of 2014 by Esquire magazine. The 40-year-old graces the magazine's November issue cover, sporting a black swimsuit and natural looking hair and makeup. Cruz, who was also recently named one of the most influential stars by Variety Latino, did not touch on the controversial subject of a letter she wrote with husband Javier Bardem, about the Gaza conflict. The star only expressed she hopes they achieve peace in the region. Additionally, the mother of two, Leo, 3, and Luna, 1, said the reason we haven't seen much of her is because she's focusing on her family, which to her, is everything.
The actress kept the interview as work-focused as possible. Even though she didn't talk much about future projects, she did speak about working with Pedro Almodóvar, who's directed her in five films. Cruz said she used to lie about her age to get into theatres and watch Almodóvar's movies.
Nowadays, Cruz says her idea of happiness is more stable as she likes planning and knowing what to expect: "I had an attraction to drama. Most of us have that, especially if you are an artist—you feel like you are tempted to explore the darkness. I could not be less interested now. For me, the most attractive, charming, cool, fun, interesting thing—how could I call it? A plan."
The actress also said that as flattered as she is with the title, she does not consider herself a sex symbol, let alone the sexiest woman alive, "If anything I'd say I see myself as a mom who doesn't get enough sleep." Take a look at the gorgeous photos!
© 2023 Latin Times. All rights reserved. Do not reproduce without permission.