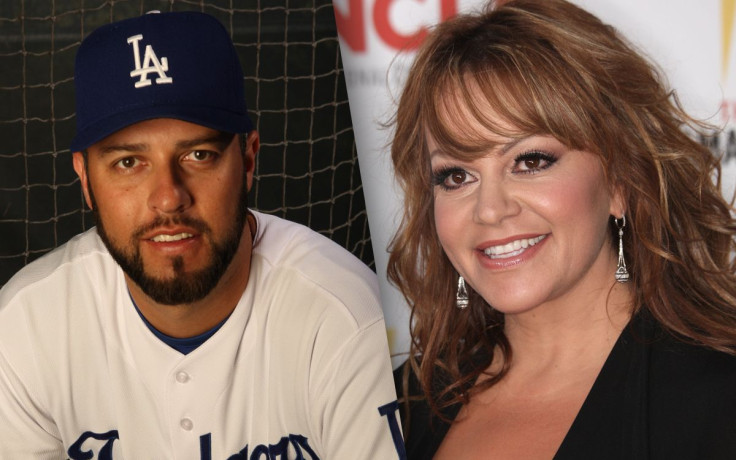 Jenni Rivera's widower, Esteban Loaiza, was arrested in San Diego a few days ago with possession of over 20 kilograms of cocaine and/or heroin, that's about 44 pounds of narcotics. The former MLB pitcher now faces three felony counts for possession with the intent to sell and transportation of drugs with the intent to sell. Loaiza is set to appear in court on Wednesday, February 14 and is bail was set at $200,000. According to SBNation, "the possession charge carries a minimum prison term of 15 years, with the intent to sell and transportation charges potentially carrying additional sentences."
Jenni Rivera married Esteban Loaiza, but was in the process of divorce when "La Diva De La Banda" tragically died in a plane accident. It was rumored that Loaiza was cheating on Rivera with her daughter Chiquis, something both have denied.
"The world and my family lost Jenni on December 9, I lost my mother two months before on October 2. It was a misunderstanding," Chiquis told "Ventaneando" back in 2013 of the friction that existed with her mother before her untimely death. "My world ended that day. Every day I live with that and nobody knows the pain I carry, especially because it was a misunderstanding, there were so many people int he middle that caused so much pain, so many problems that it was impossible not to be upset." She also added, "When my mother got married, I knew she was not in love with Esteban because I lived so many things with my mom."
Chiquis doesn't know how the rumor got started and denies she had an affair with the former MLB pitcher. "I don't understand how the rumor got started, this horrible thing that has caused so much suffering," Chiquis said. "[Loaiza] has always been very respectful towards me and me with him. There were so many people filling her head with things. If there's a problem with someone you should ask them directly, and that's something she didn't do. To this day, my mother, in her heart, thinks I had something with Esteban." Jenni died in a tragic plane crash after a performance in Monterrey, Mexico on December 9. During that concert Rivera dedicated "Paloma Negra" to her daughter, which described the feud she had with her and left the hope for a reconciliation. This never happened and to Chiquis it is very upsetting that she never had the opportunity to make amends with her mother. "We didn't talk, there was no communication between us. I never got the opportunity to sit down with my mother and explain to her and every day I wake up and go to sleep with that pain."
More recently in 2017, Loaiza gave an interview where he assured that there was never anything between himself and his step-daughter. Chiquis was questioned about the statement later on and she said: "It's the truth and I think that his name and my name were tarnished."
© 2023 Latin Times. All rights reserved. Do not reproduce without permission.