A former US Marine who allegedly heinously doused his wife of 10 years with gasoline and set her on fire in front of their three children has been charged with murder in Australia.
Brian Earl Johnston, 34, allegedly poured gasoline on Kelly Wilkinson, his wife, before brutally setting her ablaze for their three children to see, local authorities confirmed. The horrifying incident took place in their Arundel backyard on the Gold Coast at around 6:40 a.m. on April 20.
Johnston has been charged with murder and breaking a restraining order in relation to the horrific killing, New York Post reported. The assailant reportedly also tried to set himself on fire in an apparent suicide attempt after killing his wife. However, his instincts kicked in and he quickly jumped into a pool to douse the flames, authorities related.
After hearing the commotion and seeing the flames over their fence, neighbors reportedly rushed to the property to respond to the incident. The homeowners were left aghast and traumatized after seeing the haunting visuals of Wilkinson burning in the backyard of the house, as well as the charred Johnston in the pool.
Police officers who rushed to the scene found Johnston in a semi-conscious state with burns all over his body. Authorities recovered from the scene a plastic gasoline can, three knives, and a duffel bag with rope and duct tape, the Daily Mail reported.
After the brutal murder of his wife, Johnston spent the first few weeks in a hospital recovering from severe burns. He was recently moved to a general prison.
Johnston has reportedly recently turned down the opportunity to apply for bail and preferred to stay in jail due to "concerns" about his own "safety," reported WION.

Their three children are currently being looked after by their aunt, Danielle Carroll. Carroll has five children of her own. Meanwhile, the Gold Coast community and major Australian retailers including Harvey Norman, Officeworks, and YouFoodz have rallied to provide supplies and support for the kids.
In a similar but unrelated incident, a Milwaukee woman allegedly set her husband on fire thinking he poisoned her chicken wings in the early hours of June 3 while he was sleeping in their Enderis Park home, Latin Times reported.
Tuhonsty Maria Smith, 29, filled a cup with lighter fluid and allegedly poured it over husband Henry Williams' head and then used a lighter to ignite his hair.
Williams woke up realizing that his locks were on fire and tried to douse it using his bare hands. The victim reportedly suffered severe second and third-degree burns to his chest, head, ears, hands, neck, and face.
The couple had reportedly gotten into a heated argument the night before she set him on fire. Williams mentioned that his wife's behavior drastically changed over the last three to four months after he told her that he was going to leave her and move out of their home.
At Smith's initial court appearance, the court reportedly ordered the suspect to undergo a competency evaluation and to appear before the court upon completion of her competency report.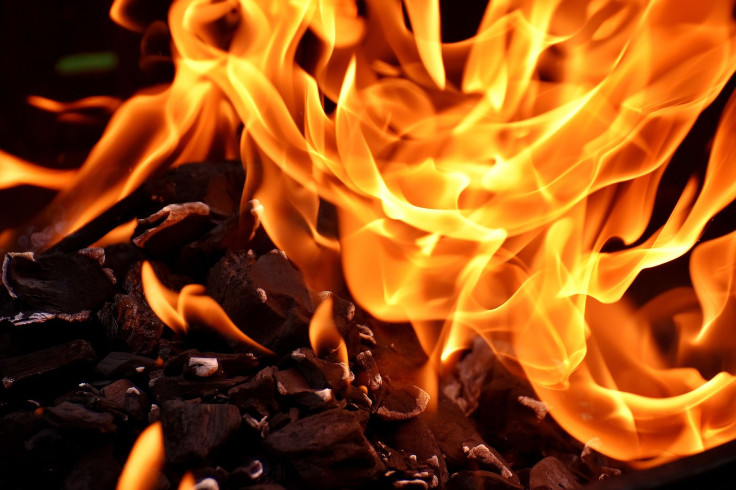 © 2023 Latin Times. All rights reserved. Do not reproduce without permission.