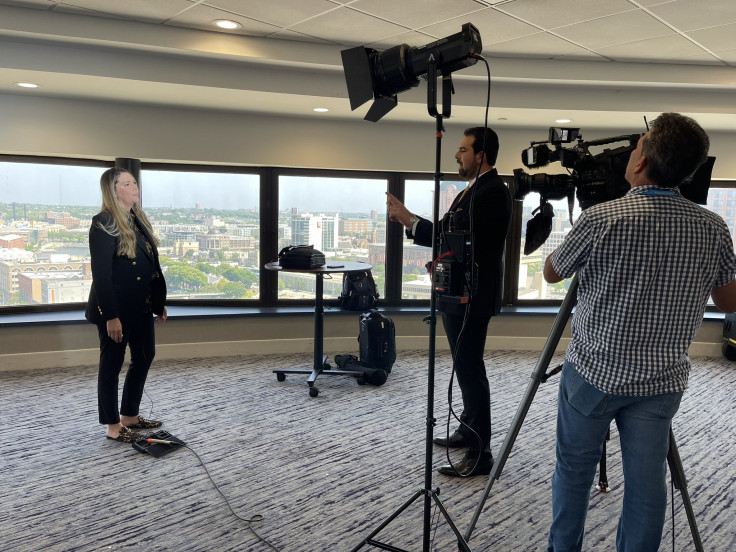 As the 2024 presidential elections approach, Spokesperson and Hispanic Media Director for the Biden-Harris campaign Maria Carolina Casado spoke with The Latin Times about Hispanic outreach, why Latinos have leaned towards the Democratic Party, the Dreamers Act, immigration reform and how she believes Republicans make it difficult to implement immigration reform.
Latinos' influence in the elections' outcome will only continue to grow: there was a 16% increase in eligible Hispanic voters from 2018 to 2022, with 34.5 million Hispanics projected to be eligible voters that year.
Additionally, according to a September 2022, study from Pew Research Center, 60% of all Latinos said the Democratic party represented their interest, while 34% said the same about the Republican party. Although Democrats still enjoy a majority lead with Latino voters, a poll from Univision suggest the gap between Hispanic Democrats and Republicans could slip with increased Hispanic disapproval for Joe Biden.
60% of Hispanic voters said Democrats represented them better, but New York Times and Siena College national polls demonstrated that the Democrat support could fall with heightened Biden disapproval. The poll recorded that currently 47% of Hispanic voters supported Biden vs 35% of Hispanic voters which do not support him. The NYT poll also cited that other high-quality national surveys found an even tighter difference, with 50% of Hispanic voters supporting Biden vs 40% of Hispanic voters not supporting Biden.
During the conversation, Casado shared why she believes a majority of Latinos vote Democrat, how the Biden-Harris plan to continue engaging with this demographic, and explained why she thinks the gain in Republican Hispanics is due to misinformation.
Casado is a Venezuelan immigrant who moved to the United States in 2014. She started her career working with Democrats by volunteering to work with the 2016 Hillary Clinton presidential campaign.
Following Clinton's loss, she continued to work with Democrats in Florida until she became the regional press secretary in South Florida for the Biden campaign in 2020, and resumed her work with the party when the Democratic National Committee reached out to her about a position as the head of Hispanic media outreach in October 2021. As of September, her role is Spokesperson and Hispanic Media Director at Biden for President.
"I can proudly say that during my time in the DNC, we made unprecedented investments reaching Latinos. We had seven-figure investments targeting Latinos ahead of the midterms," Casado said. "That was something that was never done at the DNC at a nonpresidential election. We invested heavily in states like Arizona and Pennsylvania, where we won the Latino vote three to one. We were building the pipeline for what's coming in 2024."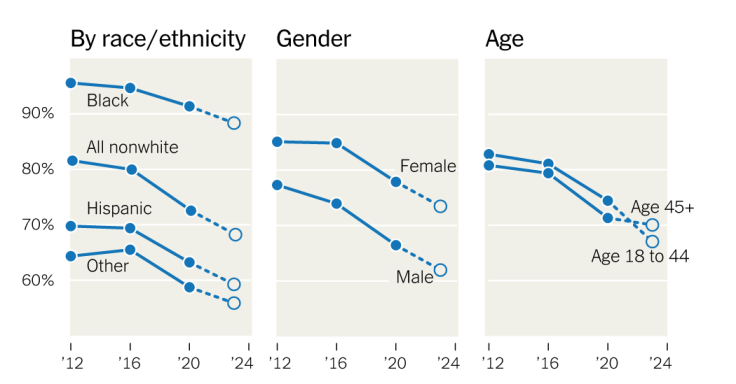 This conversation has been edited for extension and clarity purposes.
Working the Biden-Harris 2024 campaign
Casado said her role entails reaching out to the Latino community and telling them why Biden-Harris is the best option. She said although they maintained their Latino support during the midterm elections, more work still needs to be done. "I believe the biggest challenge is to translate, to take the message to Latinos of everything President Biden has done for them," Casado said.
Fighting for the Latino vote
"We started earlier than ever, more aggressively than ever, doing ads in Spanish, in English targeting Latinos, but also in Spanglish targeting our young Latino community," Casado said. "Listen, it's an honor for me to work with Julie Chavez Rodriguez, who is the first Latina campaign manager. She really understands that we have to go the extra mile to talk to every single Latino. She's doing interviews all over the country, talking to reporters, talking to stakeholders, traveling."
Regarding why she believes Latinos voted slightly more Republican these past years than before, Casado said those votes come from a specific area of South Florida and result from misinformation. "There is a coordinated campaign of misinformation that is very, very, hard to combat, to approach. At the beginning it seemed like something organic, but it's definitely something that is paid, coordinated and it's really hurting our community," Casado said. "It spread lies about President Biden, but it's even spreading lies about things the Republicans have done that they haven't."
Casado said she believes the Republican party "talks a lot of game," but they don't support Latinos and instead push a xenophobic and anti-immigrant agenda.
How can Biden-Harris support Latinos in ways GOP candidates can't?
Casado said Latinos care about having freedom, and Biden fights for the things that matter to Latinos, including gun safety and reproductive rights.
"Joe Biden is fighting for the things that matter for us. Gun safety, prevention of violence from guns," Casado said. "That's the fourth priority for Latinos in this cycle, while Republicans receive money from the NRA, millions and millions of dollars, and they don't take action to protect our children being killed at schools and in the street."
Here, Casado references a Pew Research Center study which showed that ahead of the 2022 midterm election, violent crime was the fourth most important thing to Latino voters, with 66% of Democrat Latino voters saying it is "very important" to them and 76% of Republican Latino voters saying the same. Abortion was the seventh most important thing to Latino voters before the 2022 midterm election. Additionally, she said Biden is fighting for things that matter to Latinos, such as better jobs and opportunities.
How would Biden-Harris reform immigration and do about Dreamers?
Casado said Biden inherited a broken southern border from his predecessor, Donald Trump, and he's trying to fix it. She cited having to reunite families who got broken up during the Trump administration and children in cages.
She also cited a decrease in border crossings after Biden ended Title 42, which was expected to increase border crossings, but did not. Although border crossings decreased for a few months after Title 42 expired data from U.S. Customs and Border Protection showed 232,972 people crossed the southern border in August 2023, which was higher than May 2023, and on par with other months pre-Title 42 expiration. Most recently Latin Times coverage reported that Border Patrol agents apprehended more than 200,000 migrants unlawfully crossing the southern U.S. border, the highest monthly number of the year.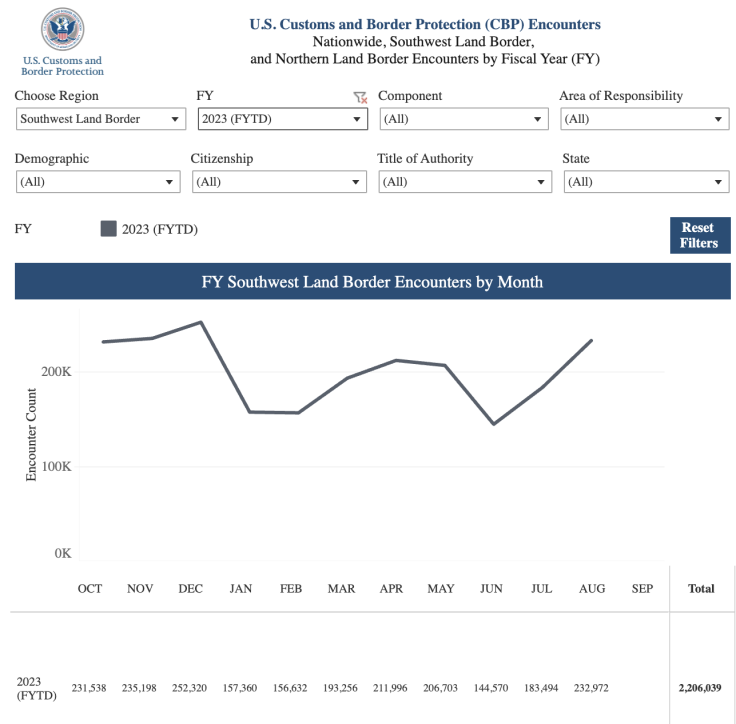 Casado said one of the first things Biden would do under immigration reform is give Dreamers citizenship. One reform she cited was Biden's proposal to expand healthcare for DACA recipients, which, if passed, will be effective Nov. 1, 2023."The only way to get Dreamers the citizenship they deserve is through an immigration reform, but that's not possible only because of the Republicans."
Casado said Biden introduced an immigration bill to reform immigration as part of his commitment to modernize the immigration system, but Republicans continue to block the bill.
She said if Biden can implement immigration reform, he would first improve the asylum-seeking system by giving more funds to border security and the Department of Homeland Security, speeding up the asylum-seeking backlog. She said he would then instill a secure, humane immigration system that first addresses the Latinos already in the U.S., which includes Dreamers.
Regarding the six-month waiting period for asylum seekers to obtain work permits, Casado said Biden announced an injection of funds to DHS, which she said is planned to address that. "A few weeks ago, Biden redesignated temporary protected status for Venezuelans, that's a good example," Casado said. "That's gonna give an expedited wait to Venezuelans, which I think is more than 400,000 Venezuelans, to get their work permit and to expedite the process,"
-To ensure fair and unbiased coverage, The Latin Times will seek to speak with political actors from across the ideological landscape in the United States.
© 2023 Latin Times. All rights reserved. Do not reproduce without permission.