US Vice President Kamala Harris offered cookies fashioned and decorated in her likeness to members of the press who were flying with her Sunday. In her first trip since being chosen by President Biden to oversee diplomatic efforts in the region during the border crisis, Harris traveled to Guatemala on Sunday to meet with Guatemalan President Alejandro Giammattei.
Harris handed out cookies in her likeness, created in the style of her official White House photograph, in the tail portion of Air Force 2, reported Fox News. Although it must have been an act out of her kindness, or rather sweetness, the outrage about the cookies handed out mid-flight, must have infuriated the right-wing fury machine. Some of them compared the cookie act to Marie Antoinette's famous "let them eat cake" remark she made during the French Revolution and had asked her starving peasants to tend to their hunger with cake.
Ronna McDaniel, the chairwoman of the Republican National Committee, slammed Harris, calling the cookies the "modern-day equivalent" of French Queen Marie Antoinette's famous statement, and tweeted her unpleasantness.
Rep. Guy Reschenthaler, R-Pa., chided Harris for distributing the cookies, suggesting that the cartel would have probably made millions as she was busy distributing cookies.
The cookies were described as "disturbing conduct" by conservative blogger Matt Walsh. Harris was criticized for her display of narcissism that came in a pack of cookies, by Republican congressional candidate and former Clinton staffer Buzz Patterson.
"I never even imagined this level of narcissism as a former Military Aide during the Clinton administration," Patterson wrote. He added that it's the taxpayer's money being spent on it. "You can't be cool with this, Democrats," he added.
According to NBC New York, as part of her diplomatic position in dealing with illegal immigration to the United States, Harris's visit to Guatemala and Mexico was packed with a word of caution. After meeting with Giammattei on Monday, Harris expressed optimism for increased cooperation with Guatemala in addressing the surge in migration to the United States. She also issued a strong caution to those contemplating the journey: "Do not come. Do not come."
In tandem with her visit, the Biden government announced the establishment of an anti-corruption task force by the Justice Department. It also announced the introduction of a task force to tackle human trafficking and drug dealing in the territory. Among other new measures, Harris pledged a new program aimed at providing education and economic opportunities for girls in the area.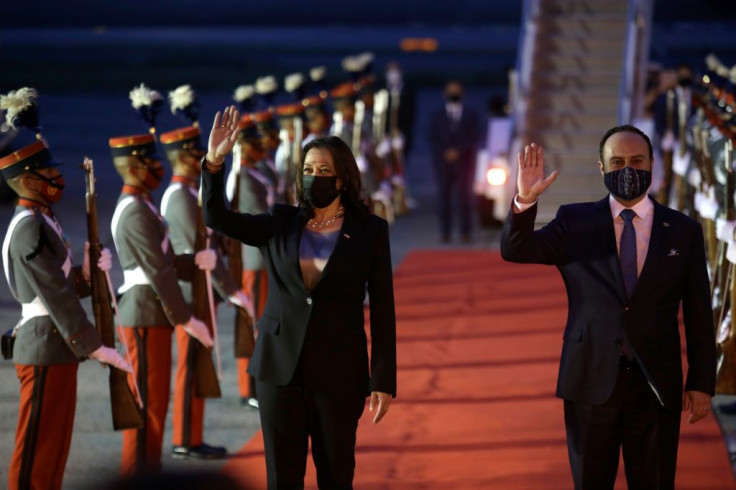 © 2023 Latin Times. All rights reserved. Do not reproduce without permission.