An ongoing probe into the deadly rioting at the U.S. Capitol led to federal authorities filing fresh charges against approximately 60 people who'd already been arrested for reasons spanning from carrying a loaded handgun and Molotov cocktails to making a threat against Pelosi. Furthermore, the Justice Department slapped over 55 criminal cases pertaining to the siege that killed 5.
Acting U.S. Attorney Michael Sherwin maintained on Tuesday that authorities 'kept a federal grand jury in the District of Columbia tied up for hours on Tuesday as they worked toward filing more charges. including additional charges like sedition, in an unprecedented investigation.
Authorities reportedly filed new charges against a volley of the worst Capitol rioters, and here's a list of the same.
1) Lonnie Coffman of Falkville, Alabama
Officials believe Coffman was armed with 11 Molotov cocktail devices "ready to go" at the time of his arrest during the Capitol attack. The homemade explosives reportedly contained gasoline and materials amounting to "homemade napalm." The investigations led to Coffman's indictment—17 separate weapons charges.
2) Eric G. Munchel of Tennessee
Munchel was photographed carrying plastic restraints, and was dressed in an all-black outfit with a cell phone mounted to his chest. The charges against him include: knowingly entering or remaining in any restricted building or grounds without lawful authority; and violent entry and disorderly conduct on Capitol grounds.
3) Larry R. Brock of Texas
Brock was reportedly spotted in a green helmet, green tactical vest with patches and a camo jacket. The charges against him are the same as Munchel's— knowingly entering or remaining in any restricted building premises without lawful authority; and violent entry and disorderly conduct on Capitol grounds.
4) Adam Johnson, 36, of Parrish, Florida
Johnson was charged a warrant from U.S. Marshal's office on Saturday, as per reports by Pinellas County Sheriff's office. As per Justice Department's statements, Johnson allegedly removed the speaker's lectern from where it had been stored during the insurrection.
5) Nick Ochs, co-founder of the Hawaii Proud Boys
Ochs was taken into custody as soon as he was landed in Honolulu on Thursday night. Ochs is charged with one count of unlawful entry into a restricted building or grounds, including the complaint notes he posted on Twitter on the day of the riots.
6) Richard Barnett, a self-employed contractor from Arkansas
Barnett's crime was caught on camera. He was seen holding mail from Pelosi's office and Derrick Evans, a recently elected to the West Virginia legislature who resigned on Saturday.
7) Jacob Anthony Chansley, a.k.a. Jake Angeli, of Arizona
Chansley was spotted wearing red, white and blue face paint and a bearskin headdress with horns in viral photos from the Capitol. The Justice Department noted he "carried a spear, approximately 6 feet in length, with an American flag tied just below the blade."
8) Derrick Evans, West Virginia
Evans, the West Virginia legislator who recorded himself storming the Capitol, was nabbed and charged for illegally intruding a building of national significance.
9) Doug Jensen, Des Moines, Iowa
Charges: not yet known While Jensen has currently been in custody at the Polk County Jail in Polk County, Iowa, since Saturday. The charges against him haven't been disclosed as yet.Jensen, wearing a T-shirt emblazoned with a QAnon shirt and bald eagle, was photographed in a wide range of photos.
10) Christopher Alberts, Maryland
The charges against Alberts primarily include being armed with a firearm and ammunition. Alberts was reportedly carrying a Taurus G2C, 9mm handgun, and 9mm caliber ammunition as the violent mob wreaked havoc at the Capitol building.
Hinting at how the investigations were far from over, Steven D'Antuono, assistant director in charge of the FBI's Washington office said, "We are far from done. The rioting and destruction we saw will not be tolerated by the FBI ... We will continue to investigate all allegations of criminal activity," adding, "Just because you've left the D.C. region, you can still expect a knock on the door if we find out that you were part of the criminal activity at the Capitol."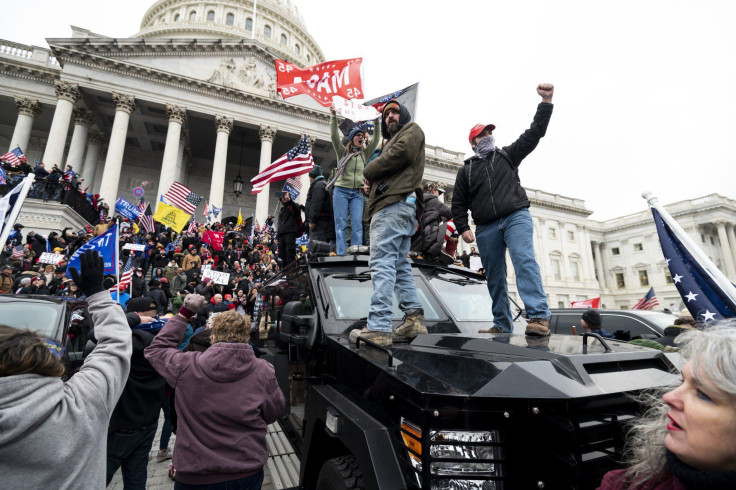 © 2023 Latin Times. All rights reserved. Do not reproduce without permission.