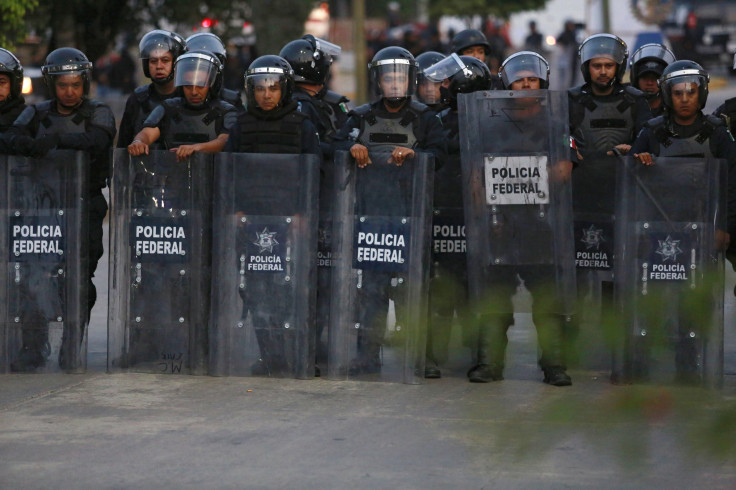 The official version, or rather, what we know is that on the night of September 26, the students were attacked by order Iguala's mayor, Jose Luis Abarca, and his wife, María de los Angeles Pineda Villa, and then handed over to the cartel Guerreros Unidos, before disappearing. But another version has surfaced as a journalistic investigation found through official documents, videos and testimonies found that the attack was orchestrated and executed by the Federal Police, with the military's complicity. In other words, Federal forces actively participated in the attack against the 43 student teachers of Ayotzinapa.
The study conducted with help from the Investigative Reporting Program of UC Berkeley, indicates that in fact the Federal Police was directly involved in the attack, contrary to the reports released by Mexico's PGR. According to Proceso magazine's reports the attack and disappearance of the students was absolutely premeditated in order to suppress the school's ideology and political infrastructure, as the 43 missing students were part of the Comité de Lucha Estudiantil (Student Action Committee) and 10 of the victims were "political activists in training" from the Comité de Orientación Política e Ideológica or COPI (Political and Ideological Orientation Committee).
One of the unpublished reports from the government of Guerrero stated that the students were closely monitored by agents of the state and federal governments on the night of September 26, when they left the Normalista school facilities in Ayotzinapa to allegedly raise funds in Iguala for their studies. The Control, Command, Communications and Computer Center (C4) of Chilpancingo reported that the normalistas started out from Ayotzinapa towards Iguala at 17:59 hours. Almost two hours later, the state police reported their entrance to the federal Chilpancingo-Iguala highway to star a collection. The head of the base of the federal police, Luis Antonio Dorantes, was informed at 21:22 of the students' entrance to the bus station and the first shooting was reported at exactly at 21:40.
All of the evidence presented contradicts Attorney General Jesus Murillo Karam's statements at the press conference on November 7, where he specifically denied the federal police's involvement and declared the students dead.
© 2023 Latin Times. All rights reserved. Do not reproduce without permission.