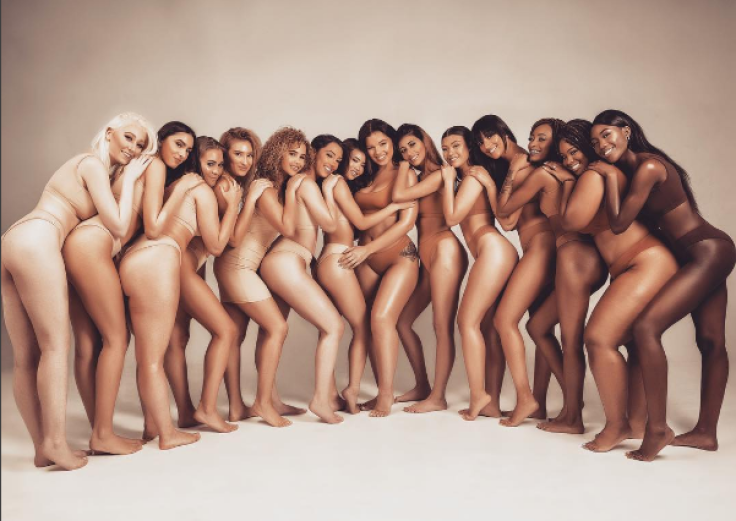 If you search for the word "inclusivity" in the dictionary, the definition will read: "an intention or policy of including people who might otherwise be excluded or marginalized, such as those who are handicapped or learning-disabled, or racial and sexual minorities." But when right now you look "inclusivity" in the news, Rihanna will be on top of the lists.
Although the singer and now beauty mogul is not the first to fight for the Afro community, she has been an important and viral platform, to demonstrate to a beauty industry still in denial, that women of color are constant consumers and that they were thirsty for decades just waiting to be proudly included.
As the Barbadian superstar, Robyn Rihanna Fenty, totally changed the game by launching her Fenty Beauty line, other brands also bet on inclusiveness, providing the market with the diversity that both Afro-American and Afro-Latina women needed.
Find below five fashion and beauty brand all women with darker skin complexion should keep an eye on:
In January 2016, Maybelline New York launched the new FitMe! Range, being, according to the brand, the first-ever face make-up range that will suit your every need and is made to fit your skin tone. With products like Fit Me! Matte + Poreless Liquid Foundation, Fit Me! Pressed Powder, Fit Me! Concealer and Fit Me! Blush, the brand provides to the consumers natural and flawless results from every angle.
In May 2017 the brand announced again via Twitter that they expanded their range to more tones and everyone was thrilled. "We launched 16 NEW shades of our Fit Me Foundation! Available online at all Maybelline retailers and in-store only at Walmart," they wrote. After the announcement the darker shades were sold out immediately.
Rihanna was inspired to create Fenty Beauty after years of experimenting with the best-of-the-best in beauty — and still seeing a void in the industry for products that performed across all skin types and tones. She launched a makeup line "so that women everywhere would be included," focusing on a wide range of traditionally
hard-to-match skin tones, creating formulas that work for all skin types, and pinpointing universal shades.
Fenty Beauty products are designed to feel lightweight, even as they deliver buildable coverage that effortlessly layers, to ultimately "make skin look like skin." Most importantly, Rihanna creates makeup to inspire, "Makeup
is there for you to have fun with," she says. "It should never feel like pressure. It should never feel like a uniform. Feel free to take chances, and take risks, and dare to do something new or different."
BECCA Cosmetics is a prestige makeup brand that offers innovative complexion and color products that flatter a wide range of skin tones. The brand's curated product line, includes primers, concealers, foundations, blushes and highlighters that use the beauty of light to enhance the complexion.
Most of the brand's foundations are available in up to twenty shades, with half designed for medium to deep tones and half designed for light to medium tones.
For BECCA is a commitment to develop premium, luxurious products in a balanced range of wearable shades for all skin tones, women of all ages and ethnicities.
Available in 12 shades, Nude Barre offers one of the most durable intimates and hosiery in the market. The eco-friendly intimates are durable enough for active women & stylish enough for everyday fashion.
Dividing all the tones in three sections, from fair to deep, the brand helps you to discover which items match your skin tone with the snap of a photo.
Their fair shades contain cool, milky, pinkish, peach and slightly yellow undertones. These women are usually Caucasian, but can also be light-skinned Asian and Latina women. Nude Barre medium shades cover light beige complexions that contain, olive, pink, and or yellow tones. These beauties range from Caucasian, Asian, Latina, Indian and Black. Such as celebrities like Beyoncé, Jennifer Lopez, La La Anthony, Jessica Alba and Penelope Cruz out of others.
And the deep shades cover brown to darker skin complexions. Deep complexions that may vary from copper, espresso, mahogany and more melanin focused pigments. These beauties range from Latina, Indian, and Black. Such as celebrities like Kerri Washington, Naomi Campbell, Lupita Nyong'o, Laverne Cox, Michelle Obama and Brandy Norwood out of others.
Launched in 2016 House No. 3028 is a brown girl's nude shoe company. Founded by successful black entrepreneurs, the brand's motto is to leave a mark in the fashion industry geared toward the inclusion of all women of color.
Sister and brother duo, Thressa Smith and Norrell Casey, used their fashion frustration to design heels and help all brown girls to perfectly match, complement or contrast their skin tone.
© 2023 Latin Times. All rights reserved. Do not reproduce without permission.