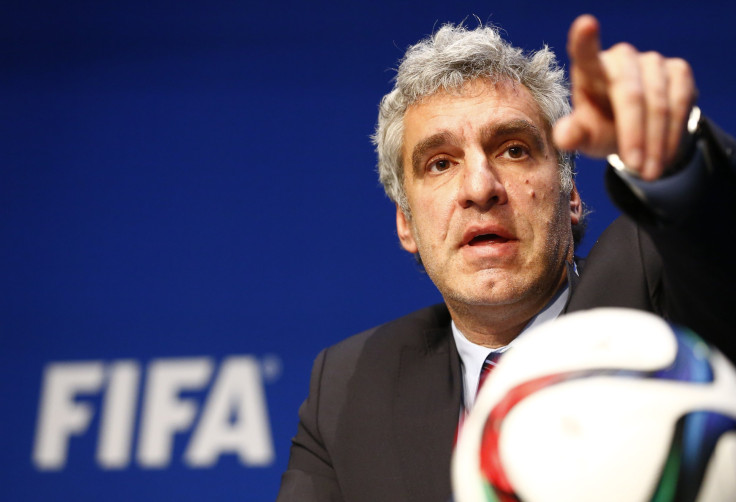 Dozens of FIFA officials facilitated hundreds of millions of dollars in bribes over a period of decades, according to indictments handed down by the U.S. Justice Department. Fourteen of those officials were taken into custody this week in connection with bribery, money laundering and other charges. One of the defendants was charged with taking over $10 million in bribes. Swiss police arrested the men on their way to a FIFA meeting. Twenty-five more officials connected to FIFA are expected to be named as the investigation unfolds. FIFA has become so powerful in international affairs that its critics are not limited soccer fans. Don't follow soccer? FBI director James B Comey explains why you should pay attention to the FIFA corruption scandal.
"When leaders in an organisation resort to cheating the very members that they were supposed to represent, they must be held accountable. Whether you call it soccer or football, the fans, players and sponsors around the world who love this game should not have to worry about officials corrupting their sport. This case isn't about soccer, it is about fairness and following the law," he said on Wednesday.
FIFA found few defenders as its leaders were hauled away in handcuffs. That's because regardless of how people feel about soccer, anyone who follows FIFA's actions tends to get pretty disgusted. Below are five of the reasons why Wednesday's indictment was a relief for FIFA critics, especially those who live in the countries where the events are held.
Money: Forcing Bad Deals On Poor Countries
FIFA siphons money from hosts countries. Lured with the promise of international exposure and a party for citizens, domestic politics paves the way for lopsided partnerships between FIFA and the governments it relies on to host the events. That wasn't such a big deal for countries like France and Germany who can afford to blow a little cash on a sporting event. However FIFA has awarded the most recent World Cups to middle-income countries: South Africa, Brazil and Russia. The price tag of the cup also tends to be higher in countries with weaker infrastructure. In South Africa and Brazil, many citizens argued that improvements made specifically to facilitate FIFA's event came at the cost of healthcare, public transportation, and other citizen services.
National Sovereignty: Blatter's Laws
In the same way that FIFA is able to enact absurd financial terms with host countries, it pressures countries into changing their laws. In South Africa, FIFA demanded its own auxiliary court system, whose judgements and jail sentences would be enforceable. In Brazil, FIFA not got the government to overturn its ban on alcohol in stadiums (to appease FIFA sponsor Budweiser), but also gave them economic control over vast areas of the host cities, displacing local vendors in favor of international sponsors. That also meant a monopoly over food and drinks, in some cases replacing cultural mainstays in local stadiums with globalized garbage.
Trickle-Down "Bribeonomics"
International corruption has dogged FIFA for years. There's a lot of money involved, and some corruption might be inevitable. As the Justice Department flow chart below neatly explains, corrupt officials are the gatekeepers of soccer's sacred fans, and companies (via marketing firms) will do anything to win sports fans' business. Yet FIFA officials have never taken the lead on fighting those financial pressures. They've done the minimum, reluctantly (and sometimes secretly) punishing the most flagrant cases, and nothing more. Corruption has eaten FIFA from the inside out, affecting everything from marketing deals to -- allegedly -- awarding host host cities and electing FIFA officials. Critics say that FIFA's corrupt model had trickled down.
Brazil's Football Confederation (CBF) is a perfect example. It runs the country's national soccer team, acting as a gatekeeper for marketing, training and international exhibitions. Like FIFA, it's an independent "non-profit," meaning it's not subject to government oversight. Yet the CBF leaders profit quite well, for the reasons outlined above. The CBF leader from 2012 to 2015, José Maria Marin, was one of the officials arrested in Switzerland this week.
Qatar 2022
Human rights advocates really don't want FIFA to go through with it's plans to let Qatar host the World Cup in 2022. That's because the stadiums are likely to be built by forced migrant labor. Overworked migrants, often from India and Nepal, are routinely trafficked to Qatar with promises of good paying jobs, only to have their contract shredded and their passports confiscated. As many as 4,000 Indian and Nepalese migrants could die in Qatar before 2022 if the situation continues, according to the International Trade Union Confederation.
There's a chance that Wednesday's announcement might lead to the reversal of Qatar's award. Allegations of outright bribery surfaced last year, but were largely confined to an internal FIFA investigation that was not shared publicly. The Justice Department said that it would look into the choice for Qatar, including questioning all members of the FIFA committee responsible for the choice. Critics have noted a number of reason why Qatar doesn't make sense: it's a small country will little soccer tradition where average summer temperatures run 120 degrees fahrenheit on average. Not exactly paradise for a ballplayer. If a smoking gun for bribery can be found, FIFA might be forced to reverse the decision.
Sepp Blatter
Another criticism of the 2022 Qatar decision is that gay fans might not be safe in the country, where homosexual acts are crime punishable by imprisonment. When questioned about the decision, FIFA President Sepp Blatter jokingly told reporters "I'd say they [gay fans] should refrain from any sexual activities." FIFA's chief has not been named in the indictments yet, but there are plenty of people who would like to see him behind bars, if not for possible corruption than because of his horrendous personality. When asked how female soccer could be made more popular, he suggested sexier outfits. When confronted with the news that a British footballer had an affair with his teammate, Blatter made a stupid joke that stereotyped Latinos.
"If this had happened in let's say Latin countries then I think he would have been applauded."
Soccer legend Diego Maradona recently called Blatter "a dictator." FIFA officials are set to vote in a not-so-hotly contested organization election later this week. Many like Maradona are hoping that he won't win what would be his fifth term at the helm.
"Under Sepp Blatter, Fifa has become a disgrace and a painful embarrassment to those of us who care about football deeply," Maradona said yesterday, before the indictments became public.
© 2023 Latin Times. All rights reserved. Do not reproduce without permission.