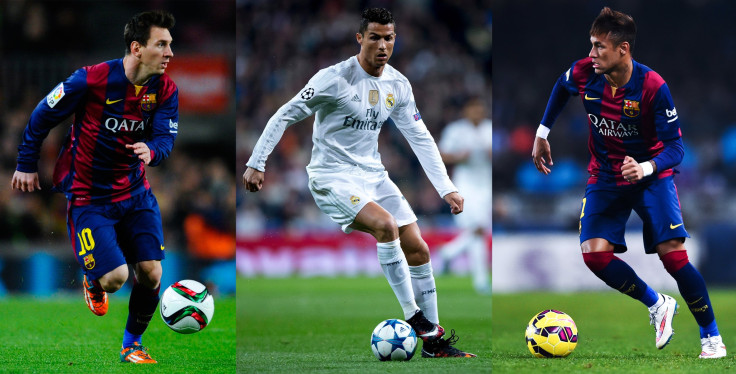 The 2015 finalists for the FIFA Ballon d'Or were announced on Monday morning and the three players who will head to Switzerland for soccer's biggest prize all hail from Spanish clubs as La Liga once again dominated the awards.
It came as no surprise to anyone that Lionel Messi and Cristiano Ronaldo were named among the three finalists. Messi and Ronaldo are the two greatest soccer players on the planet, and have finished either first or second for the sport's greatest individual award five straight years and counting.
"Lionel Messi and I are here in Zurich every year," joked Ronaldo when told that he was a finalist.
The third finalist actually came as a surprise to some as Messi's FC Barcelona teammate, Neymar, was selected as the third finalist for the prize. Neymar played well in the absence of Messi when he went down with an injury eight weeks ago, and has been on the same stratosphere as Ronaldo throughout the 2015 calendar year.
Many Barca supporters wanted to see Luis Suarez replace Ronaldo in the top three for the FIFA Ballon d'Or, especially after Barcelona completed the club's second ever Treble earlier this year.
However, the Portuguese striker is the reigning Ballon d'Or winner, and has been just as dominant for Real Madrid in 2015 despite a slight drop-off in statistics since his magnificent 2014 campaign.
Ronaldo led Real Madrid to the semifinals of the UEFA Champions League this summer and Los Blancos finished second in La Liga behind Barcelona in one of the closest contests in years.
Messi is the favorite to win the award of Ronaldo who has received the prize for the past two years. Despite outscoring Messi in 2014 and in 2015 so far, when healthy, Messi has been the better player both at goal scoring and setting up his teammates. Plus, he is simply the best player on the best team in the world.
The three finalist will be on stage in Zurich, Switzerland on January 11, 2016 when the winner will be announced live.
Tell us who you think should win the award in our poll below:
© 2023 Latin Times. All rights reserved. Do not reproduce without permission.