A mother from Florida somehow willed her way to save her daughter when part of a condo tower collapsed on Thursday. She suffered a broken pelvis after plunging four floors after a large section of the 12-story Champlain Towers South Condo in Surfside gave way at the time.
The mother was identified as Angela Gonzalez who managed to save her 16-year-old daughter Devon from the rubble, CBS Miami reported. She and her daughter are now getting treatment at the Jackson Memorial Hospital with 99 people still missing from the disaster.
One of the yet-to-be-recovered persons from the collapsed structure is Angela's husband, Edgar.
"Wasn't something that I thought I would come down to this, I guess. But pick up the pieces, trying to figure out how to make this work, how to make this better than what it is," family friend Lisa Melencial stated.
In the latest report from CNN, at least four people were killed from the incident. The official tally of missing people from the tragedy was updated to 159 as a rescue and search operation remains ongoing.
A class-action lawsuit was filed in the 11th Circuit Court against the Champlain Towers South Condominium Association but a resident who owns one of the units in the building. It was filed by the Brad Sohn Law Firm, on behalf of plaintiff Manuel Drezner and others similarly situated on Thursday evening. They are seeking roughly $5 million in damages, NBC Miami reported.
The reason behind the collapse remains unknown and it may take months before the actual reason is determined. According to Mayor Charles Burkett, roof work was being done at the building at that time.
"Devastating news for families waiting for any hope of survival. And of course, we're going to continue to search. Those three people have not been identified at this time. It does bring our count to four of those who've lost their lives in this tragedy," Miami-Dade County Mayor Daniella Levine Cava stated when she appeared on ABC's "Good Morning America."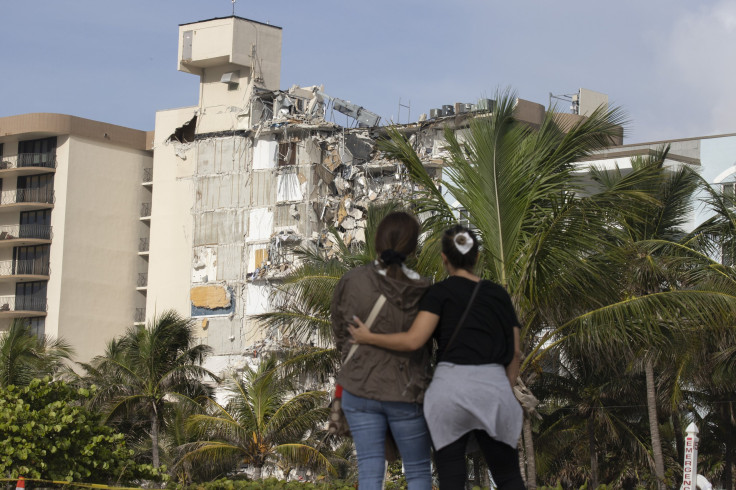 © 2023 Latin Times. All rights reserved. Do not reproduce without permission.