A post-match press conference from Dubai sent shockwaves to the global football scene on Thursday.
In the said media briefing, Marcello Lippi tendered his resignation as the head coach of China's national team.
China was just fresh from getting stunned by Syria, 1-2, in the second round of the Asian Qualifiers for the 2022 FIFA World Cup when the Italian gaffer announced that he is leaving.
Worse, what would be Lippi's final match in China's sideline ended in the most heartbreaking of ways as Zhang Linpeng accidentally cleared Omar Khrbin's pass into his own net late into the match, letting Syria escape.
Earlier in the round, China was held into a goalless draw by the Philippines at the Pana-ad Park and Stadium in Bacolod, a hint that the Chinese football team is not in a good position right now.
Lippi, who was visibly upset with the defeat, made a cryptic opening remark, hinting that there could indeed be a dysfunction at the Chinese side.
"A team should give everything on the field and if the players have fear of losing the game, then there is no fighting spirit, desire, courage," Lippi said in Italian.
In videos of Lippi's press conference shared by Titan Plus, he was even seen punching the table, although not that strong, several times to stress his disappointment with his team.
However, he added that he is taking responsibility for what's happening to his team right now, leading to his resignation.
In hopes of solidifying its status as one of Asia's football powerhouses, the Chinese national team tapped Marcello Lippi, the first and so far the only coach to win a title in the FIFA World Cup, the UEFA Champions League, and the AFC Champions League, as its new coach in 2016, nearly two years after he quit as Guangzhou Evergrande manager.
Lippi resigned after China lost to Iran in the quarterfinals of the AFC Asian Cup, but he returned to the job after Fabio Cannavaro's own coaching stint with China was short-lived.
With the loss, coupled with the Philippines' 2-1 win against Maldives in Male, China and the Philippines are tied for second place in Group A with seven points each behind Syria, which remains perfect with 12 points, although China is ahead on goal difference. Still, things are not looking good for China.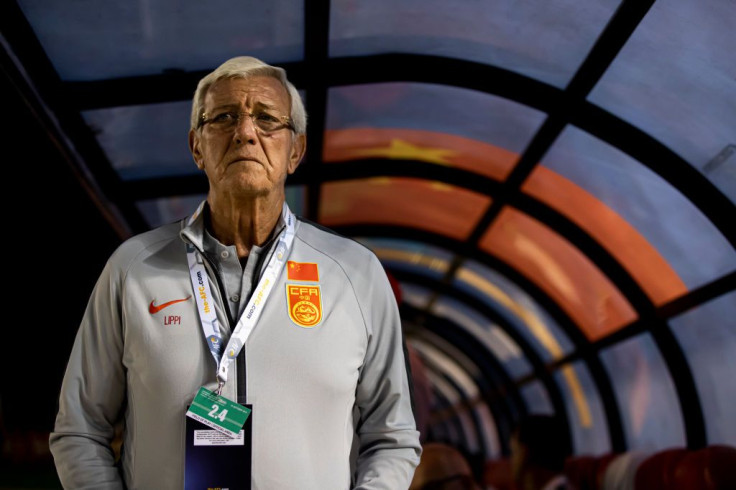 © 2023 Latin Times. All rights reserved. Do not reproduce without permission.