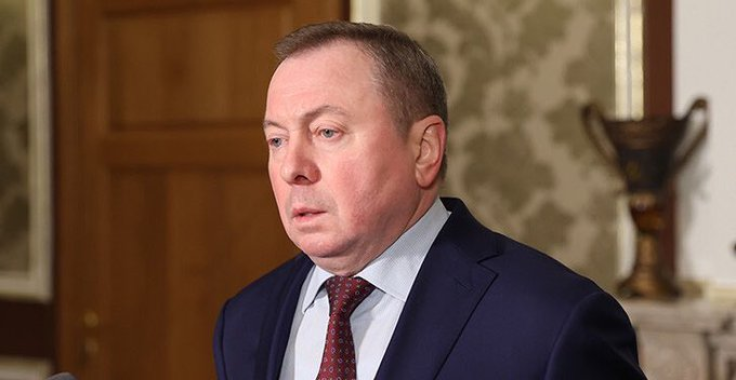 A recent report claims that Belarus' pro-Western foreign minister committed suicide just days after returning from an encounter with representatives of Russian President Vladimir Putin in Armenia.
64-year-old Vladimir Makei, a long-serving foreign minister, reportedly passed away unexpectedly on Nov. 26 after having a heart attack.
The liberal-leaning Makei committed suicide four days after attending the meeting in Armenia, according to reports by the independent Belarusian media organization Nasha Niva, which cited four separate sources, New York Post reported.
"Makei's friends say he was painfully upset by the collapse of the course he was leading," reported Nasha Niva, adding that those close to him did not believe he was murdered.
According to the news outlet, Belarusian dictator Alexander Lukashenko sought to oust Makei, who had been the dictator's senior diplomat since 2012, and aimed to enhance ties with the West, but it was unclear whether this was done at Moscow's request.
"Recently, he has been denied personal attention [from Lukashenko]," Makei's colleague said, speaking on condition of anonymity. "It was very perceptible to him."
"He understood that the former high position [he was occupying] was coming to an end. And after his heights, he did not see himself anywhere else," another unnamed source quoted.
Those who knew the foreign minister told the publication that he increasingly felt "unnecessary" and "sometimes simply out of place."
Ominously, Makei had said seven months before his death, "I don't remember who said it, but if you are going to be executed, then it is better to be executed for loyalty than for treason."
According to Yahoo News on Monday, which cited a leaked internal strategy document, the news of Makei's suicide comes on the heels of a report that highlights Russia's intention to conquer Belarus, a steadfast ally, by 2030.
According to Michael Carpenter, the US ambassador to the Organization for Security and Cooperation in Europe, "Russia's goals with regards to Belarus are the same as with Ukraine."
"Only in Belarus, it relies on coercion rather than war. Its end goal is still wholesale incorporation," he added.
Nasha Niva reported that Makei was also having marital issues. His youngest son and wife, Vera Polyakova, were absent when he was discovered dead.
Lukashenko attended Makei's funeral on Nov. 29, but Moscow did not send his Russian counterpart, Sergey Lavrov, to represent the Kremlin.
Some reports at the time of Makei's passing alleged that the Russians he had met at a Collective Security Treaty Organization summit in Armenia might have poisoned him.
According to exiled Russian businessman and opposition activist Leonid Nevzlin, Makei "died as a result of poisoning using a poison developed in an FSB special laboratory."
He cited sources "close to the Russian special services." According to Nevzlin, the poison's effects are similar to those of a heart attack, stroke, or cardiac failure.
The only information Belarus has provided about Makei's death is that he reportedly had a heart attack.
Makei met with the Apostolic Nuncio, Archbishop Ante Jozic, of the Vatican one day before he passed away, in what some saw as a move on the part of Belarus to repair relations with the West.
He was scheduled to go to Poland in December to take part in a meeting of the Organization for Security and Cooperation in Europe, a trans-Atlantic security grouping.
"Makei was holding open the window of opportunity for establishing a dialogue with the West, giving Lukashenko some room for maneuver and bargaining with the Kremlin," said Artyom Shraibman, an independent political analyst. "Makei has earned a reputation as the main pro-Western voice in the Belarusian government, so it's not surprising that his death has fueled numerous conspiracy theories."
© 2023 Latin Times. All rights reserved. Do not reproduce without permission.