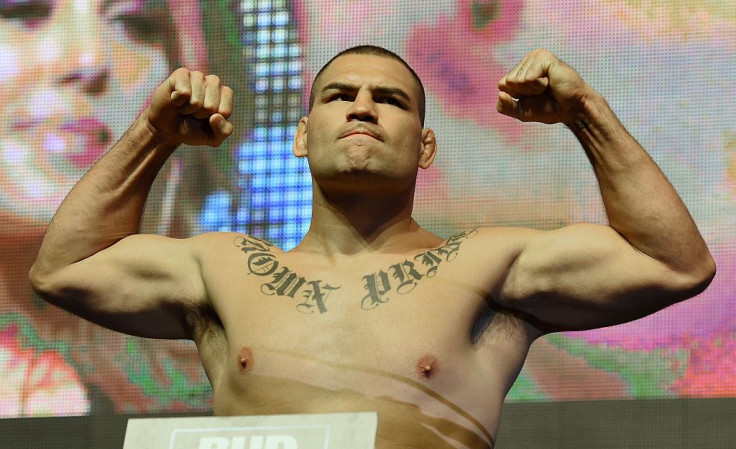 Former UFC heavyweight champion Cain Velasquez, 40, is now able to hug his family after being released on bail from Santa Clara County Jail on Tuesday.
Velasquez spent 253 days behind bars, charged with attempted premeditated murder and multiple counts of assault with a deadly weapon related to a February shooting in San Jose, California, according to the Santa Clara District Attorney's Office.
"Just blessed to be able to be with the loved ones—family, friends," the retired Mixed Martial Arts legend told TMZ Sports.
Velasquez has been hit with 10 charges, including 1st degree attempted murder, multiple counts of assault with a deadly weapon, and shooting an occupied motor vehicle, among others, and if convicted could face decades in prison
Velasquez, who has been locked up since Feb 28, allegedly engaged in a high-speed chase with Harry Goularte through the streets of San Jose when he rammed Goularte's truck and fired a 40-caliber handgun multiple times into the truck. Goularte was travelling with two relatives, according to documents from the DA obtained by ESPN.
Before granting the UFC veteran bail on $1 million on Tuesday night, Judge Arthur Bocanegra told Velasquez: "If you are as devoted a husband and father, I'm confident and have to believe you will not jeopardize anything that would take you away from your son, your daughter, your family. I hope you don't prove me wrong."
"I won't your honor," Velasquez answered Judge Bocanegra.
Velasquez will now have to follow multiple restrictions while out on bond -- including wearing a GPS monitor, according to TMZ Sports.
The first Mexican American UFC heavyweight champion was denied bail three times since he was jailed in February. While Velasquez has now been granted bail, the trial date has yet to be set.
The former Arizona State University standout wrestler retired from MMA in October 2019 with a 14-3 record and 12 knockouts. He then went on a brief stint in professional wrestling, first with Mexico's Lucha Libre, then with the WWE.
© 2023 Latin Times. All rights reserved. Do not reproduce without permission.