Four teenagers were killed after the vehicle they were traveling in crashed into a tree and split in half when the 17-year-old driver tried to "go airborne" over a hill in Hickory Hills, Illinois.
According to the authorities, the fatal accident happened on Saturday, July 17, when the teen driver and five passengers were speeding in a 2008 Mercedes SUV.
"The vehicle, a 2008 Mercedes SUV, was traveling [eastbound on] 89th Street at an extremely high rate of speed, in what we believe was an attempt to go airborne over the crest of the hill at 86th Avenue," police said in the statement.
"After traveling through the intersection at 86th Avenue, the vehicle did go airborne, as described by a witness," police said. "The vehicle then struck a large tree on the north side of 89th Street and the vehicle split in half," they said.
All passengers and the teen driver were transported to the Christ Medical Centre.
Two 17-year-old victims, Omarion Rieves and Nathaniel Phillips, both died at the scene, while 16-year-old Destiny M Giera, and 15-year-old Jemerrio X Rieves, were declared dead on arrival at the hospital, according to the Cook County medical examiner's office.
Two, including the driver, were released from the hospital after treatment, police said.
An investigation has been launched into the incident.
"The Hickory Hills Police Department extends our deepest condolences to the families involved," police said in the statement.
The teen driver, who has not been named due to being a minor, is charged with reckless homicide along with traffic citations.
Friends and family of the deceased teens along with community members lit candles and released balloons during a gathering at the crash scene for a memorial vigil on Sunday, July 18.
Attendees remembered the young victims and shared their memories.
Kenneth Roberts, the father of one of the victims, Nathaniel Phillips, recalled having to tell his family about his son's death.
"They miss him dearly right now — and when we broke the news last night, it was kind of devastating," said Roberts.
Another attendee, Rachel Grau, remembered the brothers Omarion and Jemerrio Rieves.
"I knew Jemerrio and Omarion — they were one of my closest friends," said Grau. "They were always full of joy, and they were always full of laughter; like they were fun to hang around with. Everyone knew them."
Yeneliz Delmoral, a friend of Destiny Giera shared her memories, "It's honestly really sad because she could have done so much more," Delmoral said. "She was so smart and capable of so much more, but I don't know."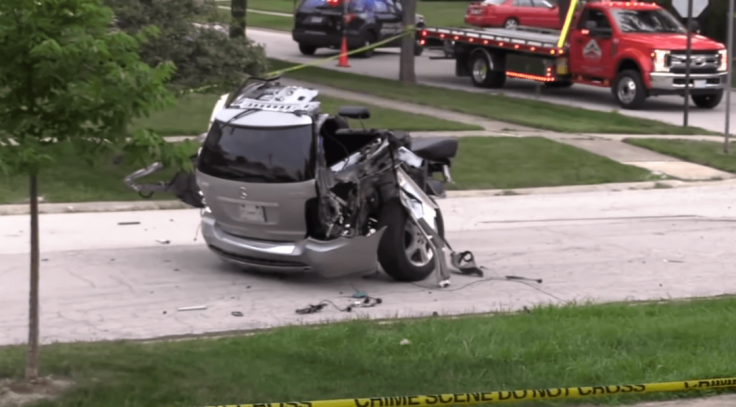 © 2023 Latin Times. All rights reserved. Do not reproduce without permission.