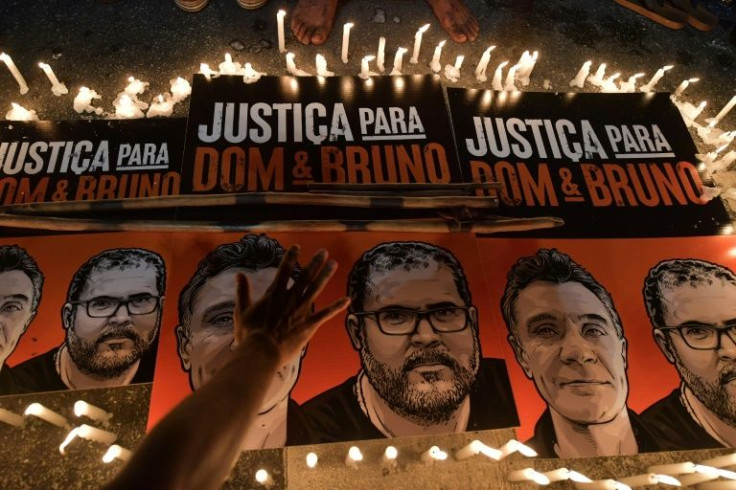 Two more men have been charged by the Brazilian police in connection with the murder of British journalist Dom Phillips and Brazilian indigenous expert Bruno Pereira.
The tragic incident occurred a year ago when Phillips and Pereira were fatally shot while returning from a reporting assignment in the Amazon via boat.
The police have alleged that one of the suspects, Rubén Villar, also known as Côlombia, was the mastermind behind the murder.
Upon his initial arrest last year, Rubén Villar vehemently denied any involvement in the homicide.
According to Brazilian broadcaster TV Globo, Rubén Villar and Jânio Freitas de Souza now face charges of murder and concealing the bodies of Bruno Pereira and Dom Phillips.
Bruno Pereira, aged 41, had been actively exposing illegal fishing practices in the area, while assisting veteran journalist Dom Phillips, aged 57, in his research for a book centered around conservation efforts in the Amazon region.
TV Globo's Fantástico program revealed that Rubén Villar, a Colombian citizen, was reportedly involved in an illicit fishing operation within the remote Javari Valley region, situated near the border of Brazil, Peru, and Colombia.
The second individual who was recently charged, Jânio Freitas de Souza, is suspected of being associated with Rubén Villar's criminal network and is believed to have worked for him. Both suspects are currently in custody.
Rubén Villar's initial arrest took place in July 2022, on the grounds of allegedly providing false information to the authorities.
While detained, Rubén Villar shared a cell with Amarildo da Costa de Oliveira, an illegal fisherman who, according to the police, has since confessed to the murders of Bruno Pereira and Dom Phillips.
Police documents reviewed by reporters from Fantástico indicate that the authorities possess audio recordings obtained from inside the prison cell.
According to the police, the recordings capture Rubén Villar cautioning his cellmate against revealing that he, Rubén Villar, had supplied the ammunition used in the murders of the two individuals, BBC reported.
Prosecutors believe that phone conversations between Rubén Villar and Jânio Freitas de Souza on the day of the crime suggest premeditation in the commission of the offense.
In one of the last photographs featuring Bruno Pereira and Dom Phillips, they can be seen engaged in a conversation with Jânio Freitas de Souza in the riverside village of São Rafael.
Bruno Pereira, known for his efforts to dissuade residents from engaging in illegal hunting and fishing activities, was a well-recognized figure in these riverside communities.
Police suspect that Rubén Villar's illicit fishing operation had been monitoring Pereira's actions closely.
Investigators have suspicions that on Jun. 5, 2022, Jânio Freitas de Souza contacted Rubén Villar to inform him that Pereira and Phillip were preparing to depart by boat from São Rafael.
According to investigators, it is believed that later that same day, Amarildo da Costa de Oliveira and Jefferson da Silva Lima ambushed the two victims, both of whom the police claim has confessed to the killings.
Amarildo da Costa de Oliveira, Jefferson da Silva Lima, and Amarildo da Costa de Oliveira's brother, Oseney, who denies any involvement in the crime, are currently awaiting trial.
The remains of Phillips and Pereira were discovered ten days after they went missing. They had been fatally shot, and their bodies were dismembered and buried in the forest.
The heinous crime sparked outrage in Brazil and abroad, shedding light on the prevalence of criminal activities and lawlessness in remote regions like the Javari Valley.
Monday marks the first anniversary of their disappearance, and commemorations are being held to honor their memory.
© 2023 Latin Times. All rights reserved. Do not reproduce without permission.