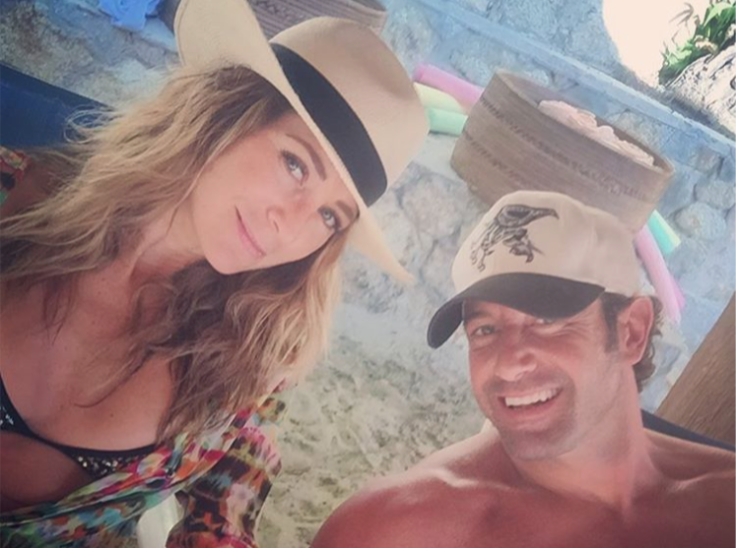 It looks like Gabriel Soto's marriage could be in danger after a Mexican publication allegedly took a "beach wrestling" photo shoot out of context and decided to publish the images implying that the actor and his "Por qué Los Hombres Aman A Las Cabronas" co-star, Marjorie De Sousa, were getting a little up close and personal between shows.
"She is already looking into divorce. She doesn't want to know anything about Gabriel," Geraldine Bazán's close friend reportedly told TVnotas. The source also added that Soto is doing everything in his power to obtain her forgiveness and save his marriage, but she is still a little bit hesitant on whether or not she wants to stay with him.
Last week, Bazán and her two daughters, Elissa and Miranda, joined the actor in Perú, where he is shooting his new film "La Peor de mis Bodas," and where they seem to have had a great time enjoying the many amazing views and culture the country has to offer.
Even though Geraldine has yet to confirm or deny her "friend's" allegations, she did step up in front of the cameras immediately after the photos were published and commented on the insults the Venezuela bombshell was receiving on social media. "She is dealing with the worst part, receiving insults from here to there. Maybe because she is not Mexican, she doesn't know that Mexico, whatever the case is, is a country based on values," she told Telmundo's "Suelta La Sopa."
On the other hand, Marjorie De Sousa has already publicly addressed the scandal and clarified that she has no intentions of fooling around with a married man. "I'm not that stupid, please! I have no need to go to a public beach with a married man and mess around," the Venezuelan bombshell told the Mexican media. She also reportedly called Geraldine to apologize for the misunderstanding and assured her that between her and her husband there was nothing more than a professional relationship.
© 2023 Latin Times. All rights reserved. Do not reproduce without permission.