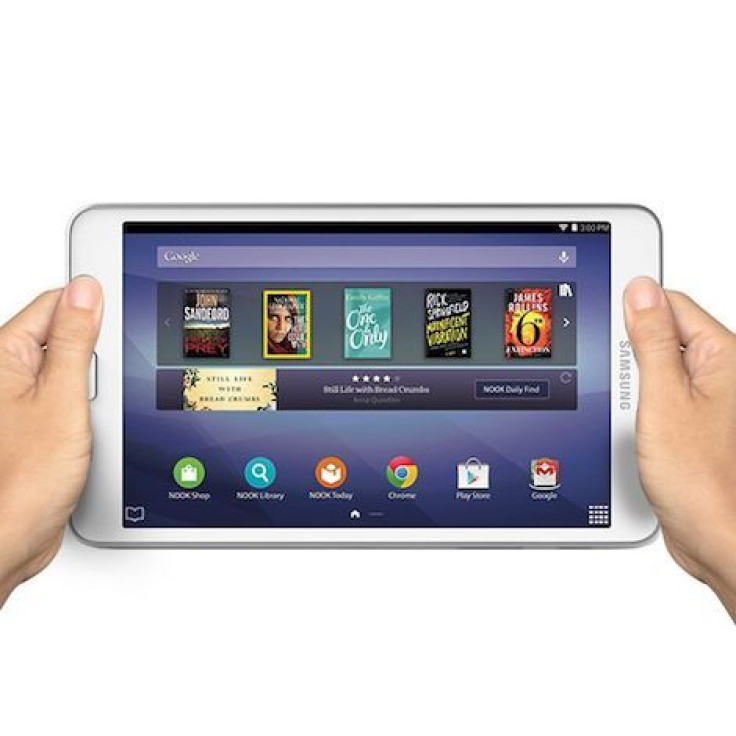 Back in June Samsung and Barnes & Noble revealed they would be working together to bring a new Nook tablet to users. That product is now ready and both companies have revealed the new Samsung Galaxy Tab 4 Nook.
This new Samsung Galaxy Tab 4 Nook is basically just a slim down version of the Tab 4. Users will get a 7-inch 1280 x 800 resolution display, 1.2GHz quad-core processor, a front 1.3 MP camera and rear 3 MP camera and 8 GB of on-board storage plus users get microSD card support. You also get Nook apps, Samsung apps and Nook cloud storage. All of this comes in just a 0.35 inch thick device that only weighs 9.74 ounces. The device comes in two colors including black and white.
Barnes & Noble tweaked Android 4.4 KitKat and the Galaxy Tap 4 Nook comes with Google apps and the Google Play store. With this addition users have access to an extensive selection of apps and games. Barnes & Noble is also giving users $200 worth of bestselling books, magazines and TV shows free when you register your device. You'll also get a $5 starter credit.
The Samsung Galaxy Tab 4 Nook is now available online and in stores at Barnes & Noble. You can pick one up for only $179, which includes a $20 discount. Check out the introduction video for the Samsung Galaxy Tab 4 Nook below featuring James Patterson and more!
© 2023 Latin Times. All rights reserved. Do not reproduce without permission.