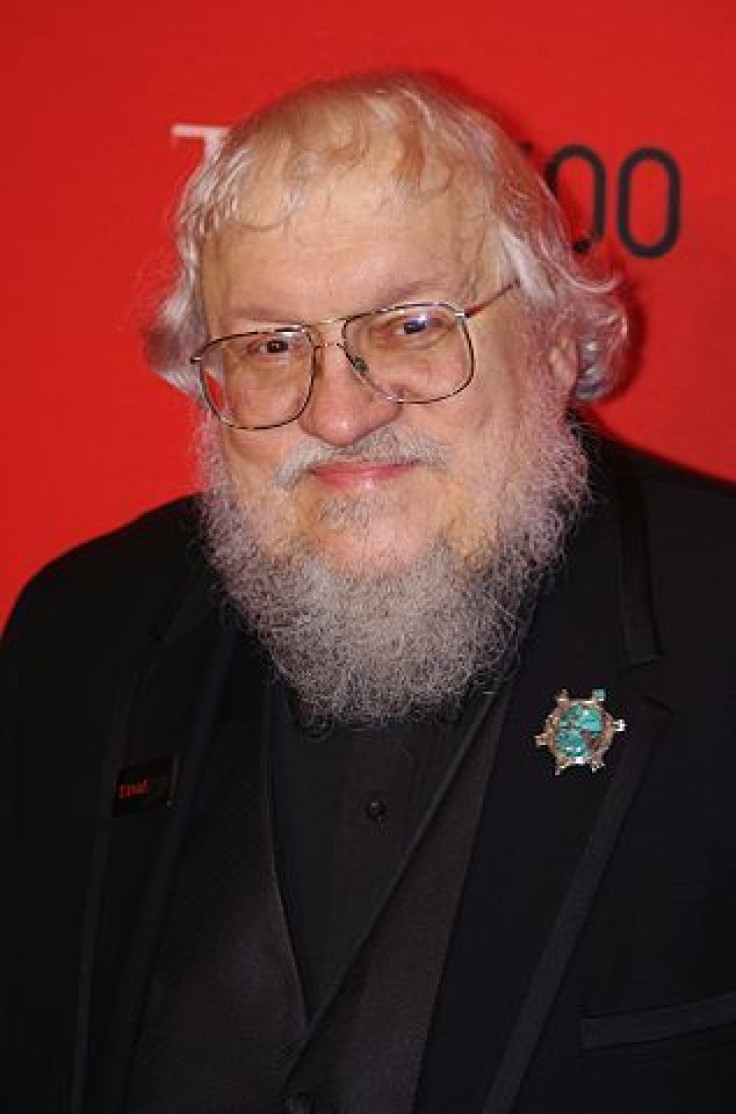 If you aren't ready for a "The Winds of Winter" spoiler, just click out now, pretend you didn't even see this headline and abandon ship! If you keep reading beware that you are staying here at your own risk and you can't yell at me later for spoiling the forthcoming sixth book in the "A Song of Ice and Fire" series.
Ok, so now that you've committed, let me fill you on my current state of terror, George R.R. Martin has spoiled "The Winds of Winter." Ugh! George you didn't even mean to do it, it was a simple slip of the tongue, but such a travesty all the same. Ok, let's be serious I'm not that upset. I mean I am because being an avid reader of "A Song of Ice and Fire" series I like being the one who holds all the information, dangling it smugly above the heads of all those who only watch "Game of Thrones" on HBO, and now I have been brought back down to earth. I fell hard, George, I fell hard. I was reminded of the cruel world of Westeros and the even crueler mind of George R.R. Martin, but in this case he was sweet and forgiving. JON SNOW IS ALIVE! Did you that hear people? I said Jon Snow, Lord Eddard Stark's bastard son, who knows nothing, is alive.
Remember at the end of "A Dance With Dragons" when Lord Commander Snow (sounds so much better than Lord Eddard's bastard son) was brutally and mortally wounded by his own men of the Night's Watch led by Bowen Marsh. Jon was suggesting to lead the Night's Watch in a march south to save his family's castle, Winterfell. Even though Jon was suggesting to violate eight thousand years of Night's Watch law and tradition, I so badly wanted them to go, to save Winterfell from ruin and avenge the Starks. Instead Martin's narrative closes with Jon losing consciousness or dying, we didn't know, but now we do, he's alive.
'Game Of Thrones' Will Run For 7 Seasons, But When Will 'Winds Of Winter' Be Released?
How did he survive, he was stabbed multiple times, what is the state of the Wall and the men of the Night's Watch? Now that I know he is alive, I need to know everything. Martin you better hurry up and finish this book now that you've spoiled it! Sorry, I didn't mean to sound snappy. So how exactly did Martin spoil his not even yet published book, "The Winds of Winter?" Well it was a mistake, Martin was being interviewed by io9, and Martin explained how the story has grown throughout his telling of the central story. "Some major characters -- yes, I always had plans, what Tyrion's arc was gonna be through this, what Arya's arc was gonna be through this, what Jon Snow's arc is gonna be. I knew what the principal deaths were gonna be, and when they were coming. That would be the closest thing." So Jon's story is still kicking.
I also feel like Martin spoiled a little bit of excitement and news for readers and viewers alike. Martin was answering the question, "I'm obsessed with the five-year gap you originally planned in the middle of the series. How would that have happened?" when he revealed a whole lot about the upcoming seasons of HBO's "Game of Thrones" and the series in general.
If you are not familiar with Martin's intended five-year gap in the series, here is some brief context. After writing "A Game of Thrones," "A Clash of Kings," and "A Storm of Swords," Martin originally planned to write three more books. In his fourth book which was tentatively titled "A Dance with Dragons" Martin planned to set the story five years after "A Strom of Swords" to allow time for his younger characters, Arya, Bran, Rickon, to mature while Daenerys Targaryen's dragons grow larger. Realizing this plan would work for some characters and not for others, Martin later abandoned the idea of the five-year gap.
'Game Of Thrones' Season 4: 'In Memoriam' Pays Tribute To Dead Characters At Comic-Con With The Help Of Boyz II Men
So when Martin was explaining why he abandoned the initial plan for the five-year gap he referenced multiple characters and their specific plots he spoiled that Jon is in fact still alive. Martin stated, "Other characters, it didn't work at all. I'm writing the Cersei chapters in King's Landing, and saying, "Well yeah, in five years, six different guys have served as Hand and there was this conspiracy four years ago, and this thing happened three years ago." And I'm presenting all of this in flashbacks, and that wasn't working. The other alternative was [that] nothing happened in those six years, which seemed anticlimactic. The Jon Snow stuff was even worse, because at the end of Storm he gets elected Lord Commander. I'm picking up there, and writing 'Well five years ago, I was elected Lord Commander. Nothing much has happened since then, but now things are starting to happen again." I finally, after a year, said, "I can't make this work." Now if you haven't read up to the current book you now a lot about Jon Snow that you just shouldn't.
Now I'm not that surprised that spoilers have been running amuck. Martin certainly doesn't intend to spoil his agonizingly amazing works of literature but sometimes it must be hard to keep it all straight, where he is in the story personally in his uncompleted work, where the story is with his readers, and where the story is with HBO's viewers. I guess all I really want to say is that I want "The Winds of Winter" to be published, and I want to read it while simultaneously watching season 4 of "Game of Thrones" on HBO and eating Three-Finger Hobb's Infamous Three-Meat Stew.
Oh and just in case your felling really blue...Dracarys!
© 2023 Latin Times. All rights reserved. Do not reproduce without permission.