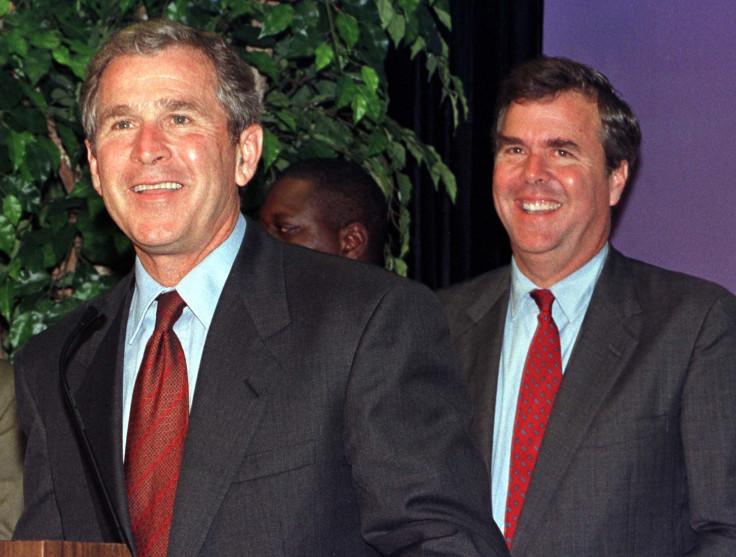 Former President George W. Bush appeared with his brother Jeb at a private fundraiser on Monday, where he told a crowd of around 150 backers that the former Florida Gov. would win the Latino vote, the WSJ reports . The fundraiser follows reports that Jeb! is tightening his belt. He's slashed staff salaries and refocusing resources after he burned through 85 percent of his fundraising. How did brother George pitch Jeb to his political investors? By promising them the Latino vote, a crucial commodity for the eventual Republican nominee.
"Jeb is going to win the Latino vote," George said at the Hilton Americas-Houston in Texas. "It's going to be essential that we not ignore the Latino vote or irritate the Latino vote."
Republicans haven't ignored the Latino vote in this cycle. Jeb started his campaign with Spanish-language songs and introductions to his Mexican-American wife and children. Cuban American Senator Marco Rubio, started his campaign at Freedom Tower where thousands of refugees entered the U.S. (not his parents, who were economic migrants.)
Neither has Donald Trump, who told Mexican immigrants that "some of them are good people," but that the rest were bringing "crime" and "rape." Even honest attempts to compliment Latinos have gone awry, e.g. Kasich's Latina maid anecdote.
George W's support has been a blessing and a curse for Jeb. Back-door campaigning by his brother has probably helped with fundraising and endorsements. But Jeb has also had to defend his brother's less palatable adventures in Iraq.
Jeb can learn a thing or two about the Latino vote from George, who won 40-44 percent of the Latino vote in 2014, according to Pew. That's about what Republican analysts predict will be needed to win the general election in 2016, and significantly more than Mitt Romney secured in 2012 (27 percent).
If Latinos are an important pathway to the Republican primary, Marco Rubio and Jeb Bush may have the best chance. But would they be able to patch things up with Latino voters after such an ugly Republican primary? Let us know what you think in the comments below.
© 2023 Latin Times. All rights reserved. Do not reproduce without permission.