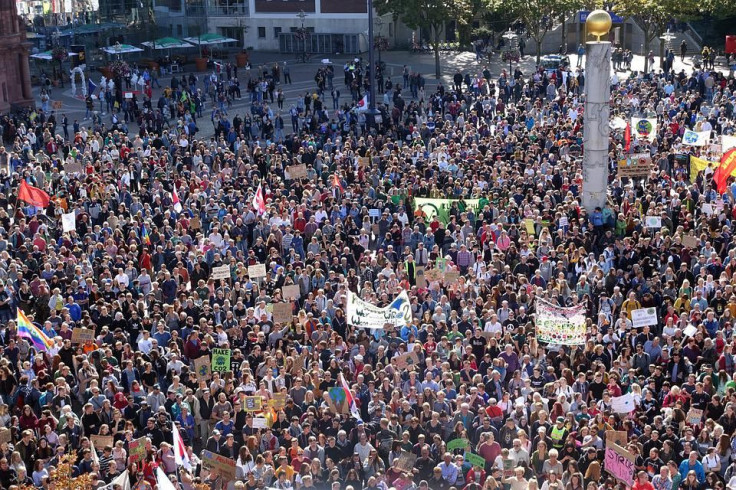 As people protested in Tbilisi, Georgia's capital, for a second night, police used water cannons and tear gas against them.
The protesters are angry at a controversial Russian-style law, according to BBC.
Al Jazeera reported that the draft law, On Transparency of Foreign Influence, officially targets the disclosure of money that comes from abroad. But critics fear it is just a way for the government to crack down on opposing voices.
According to the proposed legislation, organizations like media outlets could be classified as "foreign agents" if they get more than 20% of their funding from abroad.
Cops pushed back protesters who pulled down a metal barrier outside parliament on Wednesday evening.
People were ordered to disperse and some even got injured during the protests.
As police tried to break up the protests, clouds of tear gas rose above the streets around the parliament building.
Before this, tens of thousands of people had joined the second day of protests that took place outside parliament. There on Tuesday, lawmakers backed a first reading of the controversial new law.
A similar law has been used in Russia to limit press freedom as well as suppress civil society.
Lizzie, one of many students participating in the protests, said that they think their "government is under Russian influence and it's very bad for our future."
The protesters worry that if the new law is passed, it would damage the country's hopes of joining the European Union.
The U.S. expressed solidarity with the protesters in a statement and called on Georgia's government to allow peaceful protests.
State Department spokesman Ned Price said that the U.S. urges the government of "Georgia to respect the freedom of peaceful assembly and peaceful protests."
He added that the U.S. is "standing with the people of Georgia and the aspirations that they have."
The law will likely stifle press freedom in a country where the government controls a large share of the media, said Ghia Nodia, Georgia's former minister of education.
He noted that a large part of independent media in Georgia gets support from outside. He added that the government is saying that it's just for "transparency, but this draft law models the Russian law, and in Russia, the legislation was a step towards repressing independent media."
© 2023 Latin Times. All rights reserved. Do not reproduce without permission.