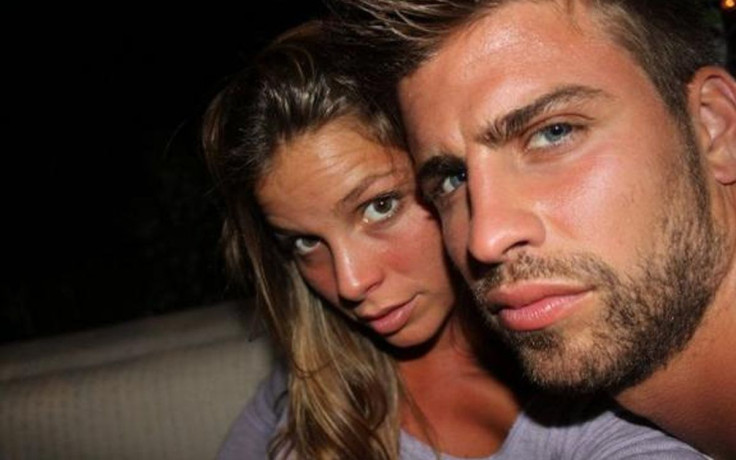 Gerard Piqué was dating Nuria Tomás when he was one of the soccer players selected to represent Spain and ultimately win the trophy at the World Cup 2010 in South Africa. At the event, Shakira first met the soccer star when he filmed the video for "Waka Waka," the official theme song. Rumors of the Colombian singer and Piqué being romantically linked took ahold of the tabloids, but rumors were debunked when the latter was spotted with Nuria. It was at the beginning of the following year that Shakira announced she was splitting with Antonio de la Rúa and weeks later it was official that the "She Wolf" hitmaker and soccer player were together. Nuria Tomás was seen as the victim and she had not spoken about the situation until now.
"Gerardo is a good person and you can only wish the best to good people," she told La Vanguardia. "It's been years since that wound healed and years since I've wished him the best." Tomás has always kept a low profile when it comes to her love life and even kept the talk to a minimum with her relationship to Jorge Lorenzo, who came after Piqué. It's clear that the lovely young woman has no resentment for her ex-boyfriend and the mother of his two children when she affirmed with a great sense of humor that she's danced to Shakira's music hits.
"They have called me from many times to ask me for an interview but I have never wanted to speak," she added. "I can't deny that I was with someone in the spotlight, but I've never made my relationship public, I would betray myself. I have nothing to say about my private life and if I wasn't an actress, not even my professional life. The difference with another mate is the last name, the feelings are the same."
Shakira has recently faced rumors about a third pregnancy. "They are going for the girl," the tipster revealed. "They want to get pregnant by April so the baby is born in January, or with more luck, the birthday of their parents. That's how they planned it with their boys, but they were born before their programmed date." So far, that has all been speculation and the "Mon Amour" singer has not shown that she is giving a baby brother or sister to Sasha and Milan.
Shakira is a human rights activist and recently spoke out against a travel ban spearheaded by Donald Trump. "This isn't just an attack on Muslims or refugees — this is an attack on all humans and in particular, the ones most in need of protection. Right now, worldwide, 28 million children have been uprooted by conflict, driven from their homes by violence and terror," she wrote in the piece published online. "We have to be vigilant about letting bigotry and hatred creep into the mainstream or be rationalized under the guise of 'protecting our people.' If we accept blanket targeting towards Muslims, we can all be sure that other minority groups won't be far behind, whether it's by closing borders to other supposed 'dangerous' groups or trampling their human rights in other ways."
© 2023 Latin Times. All rights reserved. Do not reproduce without permission.