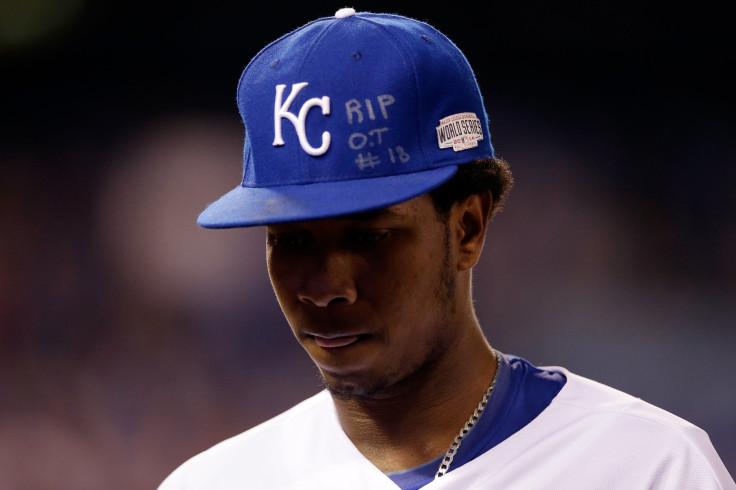 KANSAS CITY – It was an emotional night for Kansas City Royals game 6 starter, Yordano Ventura. Ventura took the mound with the Royals season on the line, less than 48 hours after the death of his friend, Oscar Taveras. Despite the emotion of the moment, Taveras pitched a gem as the Royals routed the Giants, 10-0 forcing a game seven.
Needless to say, Taveras has been devastated since he heard the news of Taveras' car accident on Sunday night that killed him and his girlfriend. Taveras posted a message on his twitter account on Tuesday with a picture of him and Taveras saying, "It's all for you, my brother, wherever you are, I'll always remember you. You have no idea the pain I'm in."
Ventura wrote Taveras' name, initials, and number on his shoes, glove and hat for the ever-important elimination game. Before the game, Taveras told the media that he used to stay at Taveras house in the Dominican Republic during their careers in the Dominican League. He said that they were very close friends, they knew each other's families, and that Taveras was one of his only friends in the Major Leagues.
Before the game, MLB and the Kansas City Royals held a moment of silence for Taveras and Edilia Arvelo. The Royals posted a photo montage of Taveras on the videoboard and included a title card that read: "Oscar Taveras 1992 -2014" before fading to black.
The Royals jumped out two an early lead on the Giants with a Lorenzo Cain two-run single and an Eric Hosmer double that chopped over San Francisco shortstop, Brandon Crawford, who was playing in on the play. The inning exploded from there as two runs turned into seven, and the Royals had a 7-0 lead by the bottom of the 2nd inning.
Mike "Moose" Moustakas hit a solo home run in the 7th inning off of Giants reliever, Hunter Strickland, making it a MLB playoffs record, 6th home run given up by a reliever in one post season. Strickland has now given up two home runs in the World Series, 40 percent of the total home runs hit.
San Francisco starter, Jake Peavy, only lasted 1.1 innings as he gave up six hits, one walk and five earned runs. Peavy's start was the shortest outing in the World Series since game 5 of the 1984 World Series when Mark Thurmond only lasted 1/3 of an inning. Peavy's record at Kauffman Stadium now falls to 1-7.
Yordano Ventura was phenomenal as the 23-year-old allowed only three hits over seven innings of shutout ball to earn his first win of the post season. Ventura became just the 12th pitcher 23 or under, to throw a seven inning shutout or greater in the World Series. The only other pitcher to do that in the past decade is Giants ace Madison Bumgarner who will be lurking out of the bullpen in game 7.
Journeyman, Jeremy Guthrie, will start game 7 opposite Tim Hudson, who will become the oldest game 7 starter in World Series history. Expect all hands on deck out of the bullpen in what will most certainly be one of more exciting games you'll ever see.
© 2023 Latin Times. All rights reserved. Do not reproduce without permission.