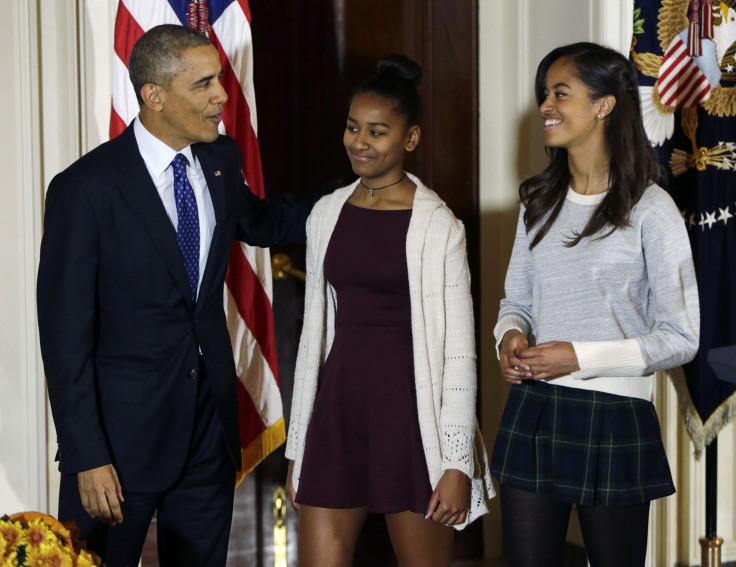 Member of Republican Stephen Fincher's staff, Elizabeth Lauten, took to her Facebook page to publicly criticize Malia and Sasha Obama's outfits for the White House turkey pardoning ceremony last week. Lauten's critiques towards the First Family included asking the girls to "show a little class" although she realized they don't really have good role models to do so. The post quickly went viral, of course, although it vanished once it started making headlines. It read as follows: "Dear Sasha and Malia, I get your both in those awful teen years but you're a part of the First Family. Try showing a little class. At least respect the part you play. Then again, your mother and father don't respect their positions very much, or the nation for that matter, so I'm guessing you're coming up a little short in the 'good role model' department."
You would think she's out of her mind, right? Well, she wasn't quite done; Lauten went on to say, "Dress like you deserve respect, not a spot in a bar. And certainly don't make faces during televised, public events," after the girls frowned at their dad's somewhat corny jokes.
The GOP staffer said she realized how hurtful her words were after many hours of prayer and numerous conversations with her parents, which took her to issue an apology on her same page, which she either promptly deleted as well or was made private. "I want to take a moment and apologize for a post I made on Facebook earlier today judging Sasha and Malia Obama at the annual White House turkey pardoning ceremony. When I first posted on Facebook I reacted to an article and I quickly judged the two young ladies in a way that I would never have wanted to be judged myself as a teenager," she wrote. "After many hours of prayer, talking to my parents, and re-reading my words online, I can see more clearly just how hurtful my words were. Please know, those judgmental feelings truly have no place in my heart. Furthermore, I'd like to apologize to all of those who I have hurt and offended with my words, and I pledge to learn and grow (and I assure you I have) from this experience."
Lauten told NBC News on Monday her resignation "is in the works", while the White House has made no comments on the matter.
© 2023 Latin Times. All rights reserved. Do not reproduce without permission.