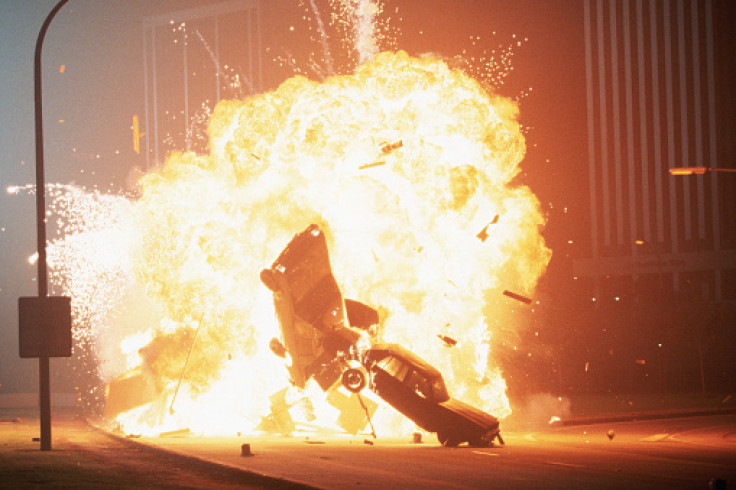 The grandmother of the teenager who was fatally shot by police during a traffic stop in a Paris suburb expressed her desire for the nationwide riots that ensued to come to an end. Meanwhile, France prepared for a potential sixth night of unrest.
Interior Minister Gerald Darmnin reported that around 45,000 police officers were deployed on Sunday night to discourage rioters. These individuals have been responsible for setting cars on fire, looting stores, and targeting town halls and police stations.
Disturbingly, the home of a Paris suburb's mayor was attacked while his wife and children were inside, further escalating the tension.
President Emmanuel Macron made the decision to delay his state visit to Germany in order to address the ongoing crisis.
Originally scheduled to meet with parliamentary leaders on Monday and more than 220 mayors from affected towns and cities on Tuesday, Macron chose to prioritize the situation at hand.
According to the interior ministry, there were 719 arrests made following Saturday's funeral for the teenager, Nahel, in Nanterre, a suburb of Paris.
This number represented a decrease from the previous night's figure of 1,311 arrests and the figure of 875 arrests from the night before that.
However, officials remained cautious and stressed that it was premature to declare an end to the unrest, indicating that the situation was still ongoing and required attention.
"There was evidently less damage, but we will remain mobilized in the coming days. We are very focused, nobody is claiming victory," Paris police chief Laurent Nunez said.
Nadia, the grandmother of Nahel, as identified by French media, expressed her belief that the rioters were exploiting the death of her 17-year-old grandson as a pretext to engage in destructive behavior.
She emphasized that the family's desire was for peace and calm to prevail in the midst of the situation.
"I'm telling them to stop," she told BFM TV.
"Nahel is dead. My daughter is lost ... she doesn't have a life anymore."
Asked about a crowdfunding campaign that had received pledges of more than 670,000 euros ($731,000) for the police officer charged with voluntary homicide over the shooting, Nadia said: "My heart aches."
The current riots pose a significant challenge to President Macron and are considered the most severe crisis he has faced since the "Yellow Vest" protests that swept across France in late 2018.
In April, Macron set a deadline of 100 days to address the divisions and promote unity within the country.
Nahel's tragic death has reignited deep-seated grievances regarding discrimination, police violence, and systemic racism within law enforcement agencies.
These concerns, which have long been raised by rights groups and within the marginalized, racially diverse neighborhoods surrounding major French cities, are denied by authorities.
The police officer involved in the incident has admitted to firing the fatal shot, according to the state prosecutor.
The officer claimed that his intention was to prevent a dangerous police chase. His lawyer, Laurent-Franck Lienard, has stated that the officer did not have the intention to kill the teenager, Reuters reported.
In the Paris region, the residence of Vincent Jeanbrun, the conservative mayor of L'Hay-les-Roses, was targeted when a vehicle rammed into it. As they fled, his wife and children were subjected to an attack with fireworks.
Following the incident, Minister Elisabeth Borne visited the affected area on Sunday, accompanied by Valerie Pecresse, the conservative president of the Paris region.
Pecresse attributed the violence to small but organized groups that were well-trained in their actions.
"The Republic will not yield, and we will fight back," she said.
As the mayor was greeted by well-wishers, a resident who gave her name as Marie-Christine said: "They're smashing things up just to smash things up, they want to spread terror, attack elected officials and try to put the Republic in danger."
© 2023 Latin Times. All rights reserved. Do not reproduce without permission.