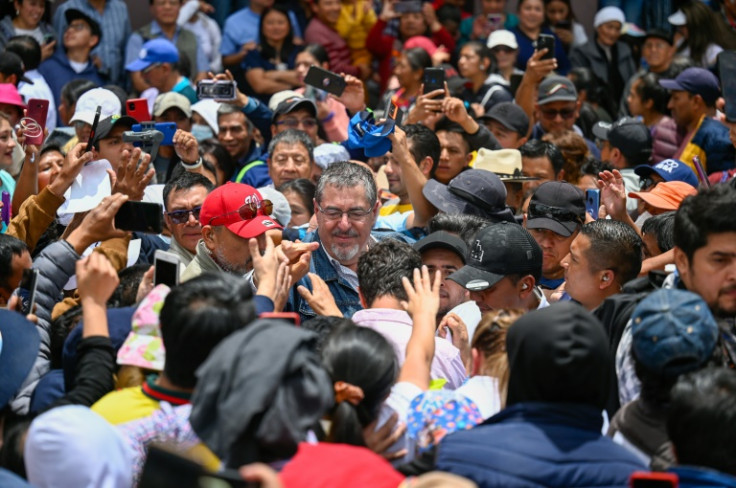 Guatemala's Interior Minister Napoleón Barrientos stepped down from his position late Monday after a person was killed in a shooting incident amid the ongoing protests.
Byron René Bor Illescas, a retired brigadier general, will take over Barrientos' position, the government announced Tuesday.
The resignation of the minister seems to be a result of Attorney General María Consuelo Porras urging the government to remove the pro-democracy protesters forcefully, AP News reported. In addition, gunshots were fired Sunday during the ongoing pro-democracy protest, which led to the death of one person and caused injuries among two, local authorities disclosed Monday.
Ahead of the resignation, Barrientos had shared that he'd like to speak with the protesters, who have been demanding Porras' resignation, rather than forcefully removing them from the streets.
Barrientos is yet to disclose the reason behind stepping down publicly. However, last week, when asked what would be a situation that might lead to his resignation, he responded saying following illegal orders.
A security expert, Francisco Jiménez, said Barrientos' actions "have been within the normative framework and protocols of the National Civil Police, based on the proportional use of force, something that has not been liked by various sectors."
Guatemalans have been protesting to demand the resignation of prosecutors accused of blocking the newly elected president, Bernardo Arevalo, from taking office.
Even though Arevalo won the elections through the Movimiento Semilla party, the attorney general has allegedly made efforts to disqualify his party to stop him from taking over the office, making Guatemalans angry.
Most of the protests, which began Oct. 7, have been peaceful. However, a couple of incidents saw the protesters block the roads and disrupt Guatemalan's daily routine. These protesters were immediately arrested.
In the wake of the government's aggression toward protesters, including deploying riot police with tear gas, a retired colonel and security expert named Mario Mérida explained in the past, the "decisions and criteria used by the military were more authoritarian than rational."
But now, it is "complicated" to make decisions as a public official. Mérida pointed out that Barrientos could have stepped down for multiple reasons, including avoiding being fired or in order to not take unlawful actions that may lead to him being criminally prosecuted.
© 2023 Latin Times. All rights reserved. Do not reproduce without permission.