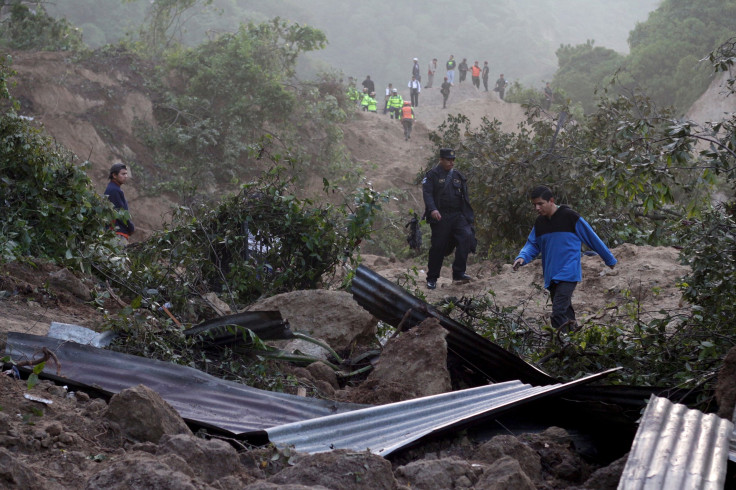 A landslide ripped through Colonia de Cambray Thursday night, destroying over 100 homes in peripheral Guatemala City neighborhood in the municipality of Santa Catarina Pinula, local media report. Among the reported dead was junior Olympian squash player Qainy Bonilla, 18. His body was recovered from a completely destroyed cinderblock house early on Friday, according to the Prensa Libre. The landslide occurred when the hillside above Bonilla's and other homes collapsed followed intense rains. Ten people have been confirmed dead in the mudslide, and the body count may rise.
Rescuers continued to dig out homes on Friday, some of which were completely buried. Rain across Guatemala has caused heavy erosion in other departments over the past few days, strewing rocks across roads and hurling trees onto parked cars.
An outpouring of local support is being organized on social media under the hashtag Ayuda El Cambray, which was trending on Twitter Friday.
Bonilla was the 8th ranked squash player nationally, and had recently brought home a bronze medal in the Pan-American games, according to teammate Felipe de la Torre.
"Quainy was passionate about the sport and about his country," La Torre told the Latin Times in an online chat. "A great void will be felt in the squash community across Guatemala, where he brought happiness and smiles."
Organizations and individuals who want to support Bonilla and his community can reach out to Squash Guatemala: squashguatemala@gmail.com
The squash community across Latin America mourned the landslide tragedy and the death of Bonilla. Colombian Squash Federation posted this tribute on its Facebook page.
© 2023 Latin Times. All rights reserved. Do not reproduce without permission.